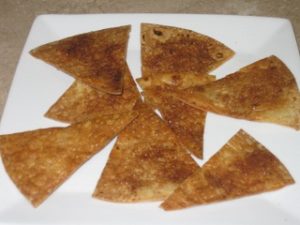 Once again, I am using the very versatile tortilla to create another recipe.  Previously I have used them to make Tortilla Pizza's and a Turkey Tortilla Wrap.  The tortilla is back to make another appearance–this time as a sweet snack.   I have found similar snack products on the shelves of my grocery store, however  I like knowing that the foods I am eating and feeding my family were made with just a few ingredients and made at home by me, whenever possible–and often times, it's much more economical and fun to do so!   This treat is a great substitute for potato chips, crackers or cookies. They are a crunchy, sweet treat to add to your kid's lunch boxes too!   Check out the video demonstration that will show you ways to incorporate the /s/ sound while making the chips!! 
Speech Snacks for /s/ and /s/ blends: 
This recipe is filled with lots of great opportunities to have your children practice their /s/ at the sound, syllable, word, phrase and sentence level.  
They can recall the steps (or sequence) for this recipe using their /s/ at the conversation level—this will depend on their current level of functioning for this sound—try this only if they are ready for the challenge.   
Here is a list of the key words you will want to target while preparing this recipe together:
/s/ AND /s/ blend words: (beginning, medial and final position /s/)
STIR,  SPREAD, SPOON, SLICE, SPRINKLE, SYRUP, SWEET, SOFT, SQUIRT, CINAMMON, RICE, CRISPY, TABLESPOON, MIX, MIXTURE, CIRCLE
Watch the "featured video" to see how we utilize many of these words while making the chips.
WHAT YOU NEED TO KNOW ABOUT THE /S/ SOUND:
There is a wide range of ages related to the normal development of the /s/ sound.  Some children master this sound as early as three  years while others master it around age 8.  By age eight years, 90% of all children have mastered this sound.  
When children protrude their tongue, creating a /th/ for /s/ it is known as an inter dental lisp.  Many  children are able to correct this without the need for speech therapy by about age 4.  If an issue persists beyond this age then a speech therapists services may be warranted.   (I have had younger children–3 and 3 1/2 year olds– in therapy who were STIMULABE for this sound, which means they were able to quickly and easily approximate the sound or model it with some success.  In those cases, I feel attempting therapy to correct the /s/ is appropriate.  However, in an effort to avoid frustration, I will wait until at least 4 years old if they are not stimulable.  If your 4 or 5 year old is struggling with this sound, seek out therapy and get them ready for kindergarten by addressing it sooner rather than later.  Like any habit, the longer you wait to address it, the more difficult it is to break!  Also keep in mind that if you wait until kindergarten, the public school therapist may not treat an /s/ –they are often directed to wait until first or second grade—and if it does not impact their social or educational functioning, then their hands are often tied and your child may not be treated in the school at all—that's where the services of a private therapist will come into play–so act early.  I have several friends who have recently been in this situation and I have given them the same advice!  
HOW TO FIX A LISP:
I will usually start by telling my student to "keep the snake in the cage".  Which, simply put, means to keep the teeth closed and the tongue back behind the teeth with the tongue tip touching the alveolar ridge–that bumpy part of the palate behind the teeth. I will also use  key phrases like "bite down and smile" and "push the air through your teeth". These cues often help with proper placement.
Another technique that I use all the time is called "the /t/ stretch".  If you begin with a /t/ sound and prolong it or stretch it out, it turns into an /s/!!  I have my kids pretend they are holding a rubber band–or if I have a big stretchy band I will use that— and have them say "t-t-t"-in isolation and then "t———–t" stretched out.  It's a neat trick and works well with many of my students.
We will generally start with /s/ word lists ending with /s/ and then beginning with /s/ before moving on to the tricky medial /s/ and then to phrases and sentence.
I like to draw a sun on a piece of paper with the sun's rays extending from it.  I ask the student to take a crayon and trace the sun's rays as he practices prolonging the /s/ sound. 
BOOKS TO READ WITH YOUR KIDS THAT CONTAIN /s/ and /s/ blends for /s/:
Arthur's Eye's by Marc Brown
Just Me and My Little Sister by Mercer Mayer
Miss Nelson is Missing by Harry Allard and James Marshall
for /s/ blends:
Aaaaargghh! spider! by Lydia Monks
There Was a Cold Lady Who Swallowed Some Snow by Lucille Colandro 
Stellaluna by Janell Cannon