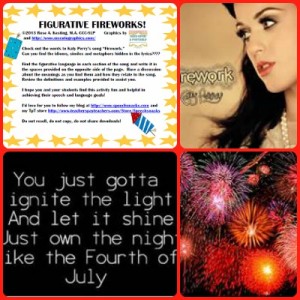 I love incorporating music into my therapy plans.  I even dedicated an entire page on my blog to the topic.   I take advantage of opportunities to utilize multisensory  and multimedia materials, especially with my older students!!  I often use you tube videos to teach social language concept, sequencing skills and story building.   I like finding ways to connect with my students based on their interests, likes and current "pop culture."    Music is one such medium that we can all relate to.  Many songs contain lyrics with positive and inspirational messages.  Today I'm sharing Katy Perry's "Firework."  It contains so many examples of figurative language and has a wonderful message to share.  Although I don't see any middle or high school students during the summer, this will be one activity I am sure to use when we head back to school after summer vacation.  Can you think of other songs that contain lyrics filled with figurative language?  I bet you will start listening a lot more closely for some great ways to incorporate music into your lessons!
Check out the FREEBIE Fourth of July themed printable activity I created using the song's lyrics to work on identifying idioms, similes and metaphors.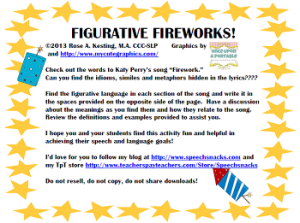 I've added a BONUS FREEBIE too!  Firework Facts & Opinions is included in this download. It requires students to determine if the information presented on each card is a fact or opinion about fireworks. It contains some good reminders about firework safety as well as types of fireworks.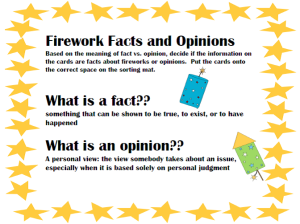 You can head over to my face book page to access it by clicking on the FREE DOWNLOADS button.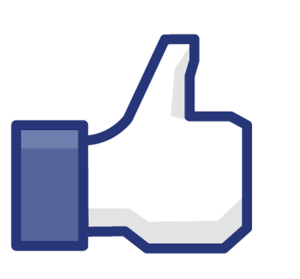 Preview the song "Firework" on you tube with your students first.   Talk about the meaning of the song and the message it is conveying—such profound and important words for our pre-teen and teenage students to hear, and a great way to connect language concepts on a level they can relate to! !!  We all have the potential and ability to shine and achieve greatness of some kind if we believe in ourselves! Go out and "ignite the light and let it shine— Just own the night like the 4th of July! "