If Smarty Ears had a fan club, I think I would be it's president!!  You've gotta love an app company that just keeps coming up with fun and fresh ideas that keep speech pathologists and students excited and motivated!!   Smarty Ears latest release, Describe It To Me, is quickly becoming my favorite app to date for so many reasons.  Let's take a look at what this awesome app has to offer—(you might just want to become the vice prez of the fan club when you're done checking it out! )
Did I mention, Smarty Ears generously gave me a copy of Describe It To Me to give away??!!—so scroll down to the bottom of the post to enter to win your copy—and when you head back to school you'll have a great app to start off the new school year!! 
(Smarty Ears provided me with a copy of this app to review as well a copy to give away.  The opinions expressed in this review are solely my own. No other form of compensation was provided.)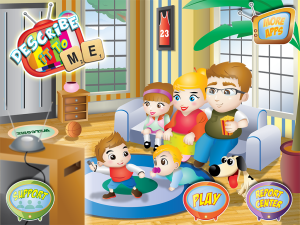 For starters, I love the game show theme used for this app! (I remember being glued to the TV set as a kid while watching some really awesome and addictive game shows—anyone remember "Press Your Luck" "$10,000 Pyramid" "Name That Tune."  I guess I might be giving away my age by admitting I watched these–and I don't mean the repeats!!)
This app targets both receptive and expressive language skills by addressing one's ability to describing items through a question format using common everyday objects. There are a total of 160 pictures included in this game.
What really won me over was the fact that this app utilizes a specific strategy for teaching semantic understanding by asking questions (deep probing) to enhance vocabulary knowledge!  This app could easily be used to transition a lesson into semantic mapping with graphic organizers (like these) as well as the very popular EET program (Expanding Expression– a hands-on approach to describing and defining.)
Each picture stimulus has six questions designed to teach a deeper level of understanding for everyday items:
CATEGORY: What category is it in?
FUNCTION: What does it do or what do we do with it?
PARTS: What parts does it have?
LOCATION: Where can we find it?
VISUALS: What can I see?
EXTRA: What else do I know?
This app is  versatile for use with different ability levels and ages.   It can be used to address beginning  categorization skills (in the receptive mode)  as well as higher level language skills (in the expressive setting).
To begin, enter players names along with an avatar, photo or leave blank.  Up to 5 players at a time can participate at once.  If you have Therapy Report Center, you can import players from this app—plus this app is free and is well worth adding to your iPad if you use other Smarty Ears apps with your caseload.  A "settings" button includes options for  buzzing or removing an incorrect response, visual/audio options for correct responses,  you can choose to use or not use the spinner as well as display/not display points.  The word list can also be customized–pick and choose which words you want to use from the word list before beginning the game.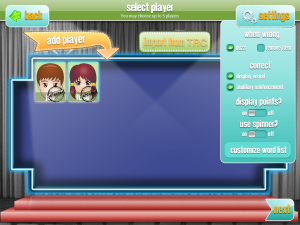 A spinner shows the active player (I'm having a flashback to that gigantic wheel players had to spin for"The Price Is Right" bonus round!!)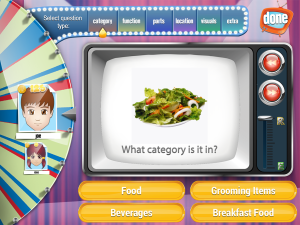 Tap on the display at the top of the screen to move between target categories (category, function, parts, location, visuals, extras).  Slide the "TV switch" up and down to change from receptive to expressive modes.   Additionally, you can tap the fast forward and reverse arrows to move between pictures.  This comes in handy if you are interested in addressing just one category type, i.e.: functions.  You can focus on naming just the functions of all the pictures and bypass the other categories.  I love how you can customize this app to focus on the targeted areas of your choice!
Here are a few screen shots of what the RECEPTIVE mode looks like: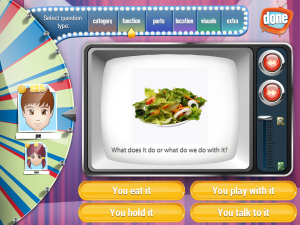 CATEGORY: What category is it in?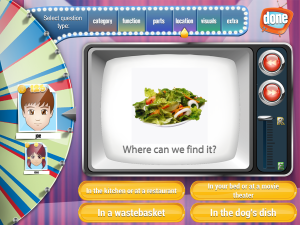 LOCATION: Where can we find it?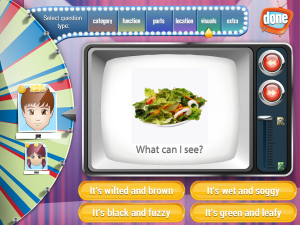 VISUALS: What can I see?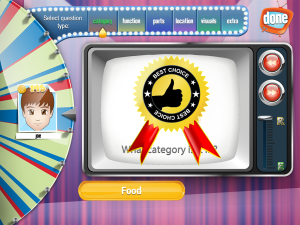 Students are rewarded with a red ribbon graphic when they select the appropriate responses.
Here are some visuals of the EXPRESSIVE mode:  Notice that there are no question prompts provided, leaving the response totally in the hands of the player.  I love the expressive mode option for my older students!  It will definitely be a challenge for many of my student who have difficulty with expansion and elaboration of details.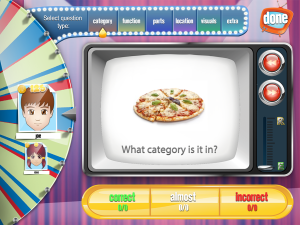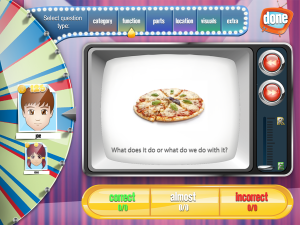 By the way, I am so loving the old fashion TV visual used to display the pictures in this game!!  They don't make them like that anymore!!   When you've finished your game,  tap on the "done" button.
You will then be brought to the "report center."  Here you can view your "report card" to track data regarding performance.  Scores are broken down by percentages for overall accuracy and number correct/incorrect for all six categories of questions.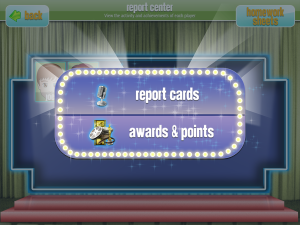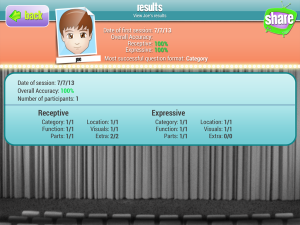 Also included is an "awards and points" section.  You will collect these "achievements and awards" throughout the course of the game.  This is a fun and motivating extra that will keep your students interested and curious about what other awards they may uncover throughout the game.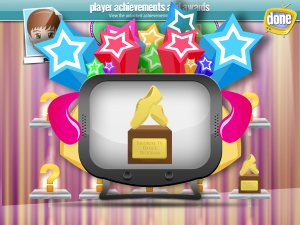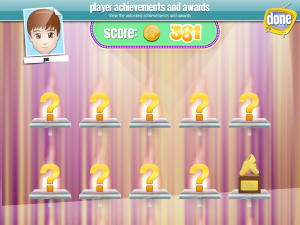 This app received huge bonus points from me by offering a "homework sheets" feature.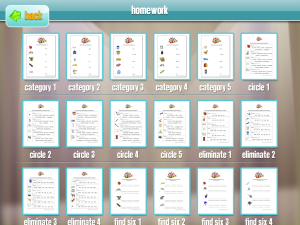 34 worksheets of various skill levels are included that reinforce the concepts addressed throughout the game.   They can be printed out or emailed.  This feature adds some extra value to the app by tying in tangible pencil and paper assignments to use as carryover for the skills addressed—what a great bonus!!!   Send the printables home in your students homework folder or use them as an introduction or follow-up activity before or after using the app!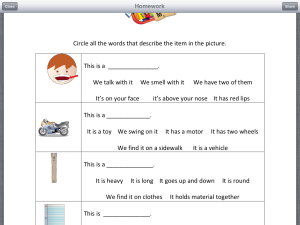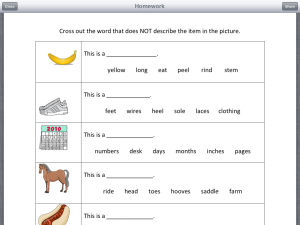 And now for the giveaway!!!!    One lucky winner will get a copy of this fabulous game show themed app so enter the Rafflecopter giveaway below to become eligible.  Winner will be randomly selected.  Giveaway end on Sunday, July 14th at midnight!   Describe it To Me is also available for $9.99 in the iTunes app store