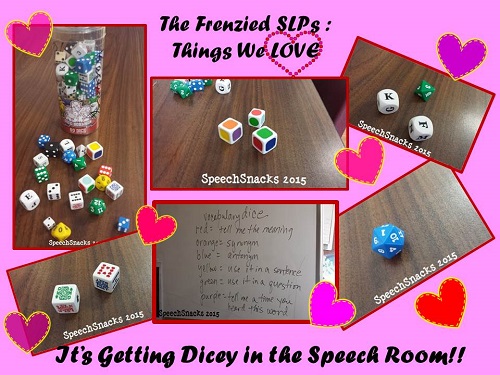 This month The Frenzied SLPs are talking about things we love.  What a great way to tie in the Valentine theme!  This topic has such a wide range of possibilities, my list could go on and on….I love so many things…..my family, my dog, being an SLP, food, music, weekends, food, vacations, food, sleep, did I mention food?  Maybe I should stick to something SLP-related?  I love keeping things fun in my speech room so today I'm sharing a therapy idea I love to use on a regular basis.  DICE!  Yup, that's my magical motivator with the older kids.  But not just any dice, a bonanza of dice! (I bought mine at Target.) It's my simple go-to item and it can be used with any speech/language goal you are targeting and any age/grade/ability level.   I work primarily with middle and high school students (and mostly boys).  It seems as though any time a score, tally, game format is presented, they suddenly become ultra competitive and motivated!  There are 60 dice in this plastic tube with a variety of different cube styles including letters, colors, numbers, polyhedral (how do you like that vocab word!) designs with up to 20 sides!  And the uses are endless.  Here are just a few ways I have been using them……
( Note: No compensation was given for mentioning this product.)
1—Use the color-coded dot dice to play vocabulary building games with new tier-2 words you are introducing.  Have each color represent a different task :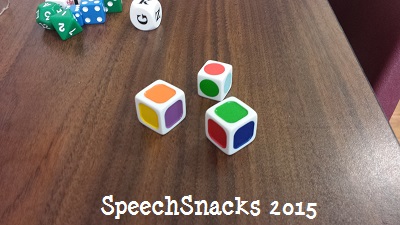 red=provide your own definition, orange=give a synonym, blue=give an antonym, yellow=use it in a sentence, green=create a questions using the word, purple=tell me a time you heard this word used.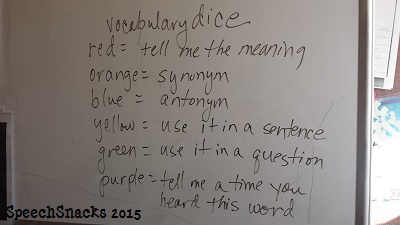 2–The polyhedral dice are so fun to play with since they come in so many cool shapes with a variety of sides.   The number values on the sides are as high as 32 on some of the dice so my students love rolling to see how many points they can earn for the language task when they provide a correct response.  I keep their scores on my white board.  And they love when I play with them so they can try and beat my score.   The multi-sided dice are also great for practicing multiple repetitions of speech sounds. Use them to address sound, syllable, word level lists for the target sound.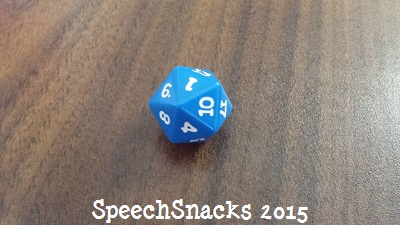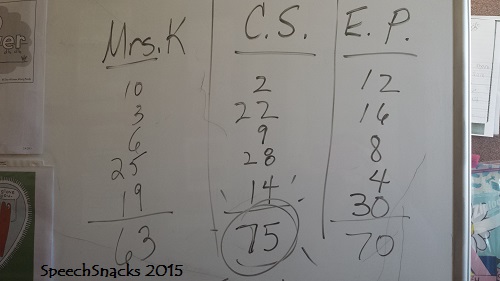 3-The letter dice can be used in a very challenging game of "name words that begin with the letter."  I use it for categorization tasks.  For example, if the category is "winter-related words" and they roll the letter "f" they will need to name winter words that start with "f".  Add in one of the number value cubes and have them name that number of winter words.  Quite the challenge!  Let's see, there's, frigid, frozen, frosty, freezing, flannel, forecast…..you get the idea.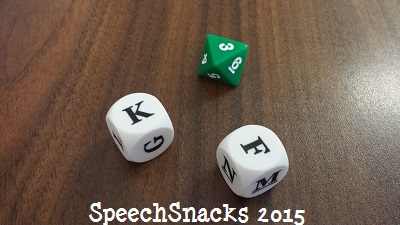 4–The playing card dice have queens, kings, jacks and a variety of heart, club and spade values imprinted on the sides.  I like to use them just as I would playing cards to play "War" or "21″.  Each player gets a die and uses it to play by the rules of the card game of your choosing.  Rolls are earned after correct responses for any targeted goal you are addressing.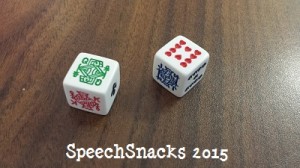 I bet there are a million other ways to use this gems in your therapy lessons.  If you think of any other ideas, I'd love for you to share and leave me a comment!
And now let's talk about one of my other "loves"—–food!   Do you love beets?  I do now as an adult, but I refused to eat them as a child!  Now they are one of my favorite veggies!  So here's is a fun way to introduce them to your students while making a Valentine food-tivity.  I have a simple way to use them at home too if you will be making a special Valentine's Day dinner.
First you will need a few large raw beets.   (I bet you will get a few puzzled looks when you ask your students to name this root vegetable). You will also need heart shaped cookie cutters.  I prefer the metal cookie cutters to the plastic ones since it's easier to cut out the beets with them.  Have a cooked (parboiled) beets peeled and cubed in a ziploc baggie so you can offer a taste to your students if they are willing! I like to compare the taste to that of a carrot.   This will make your activity truly multi-sensory.  You may even win a few beet fans in the process!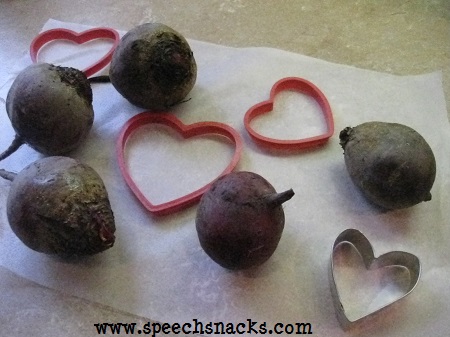 Be sure to lay out some wax paper on a solid surface, or use a cutting board.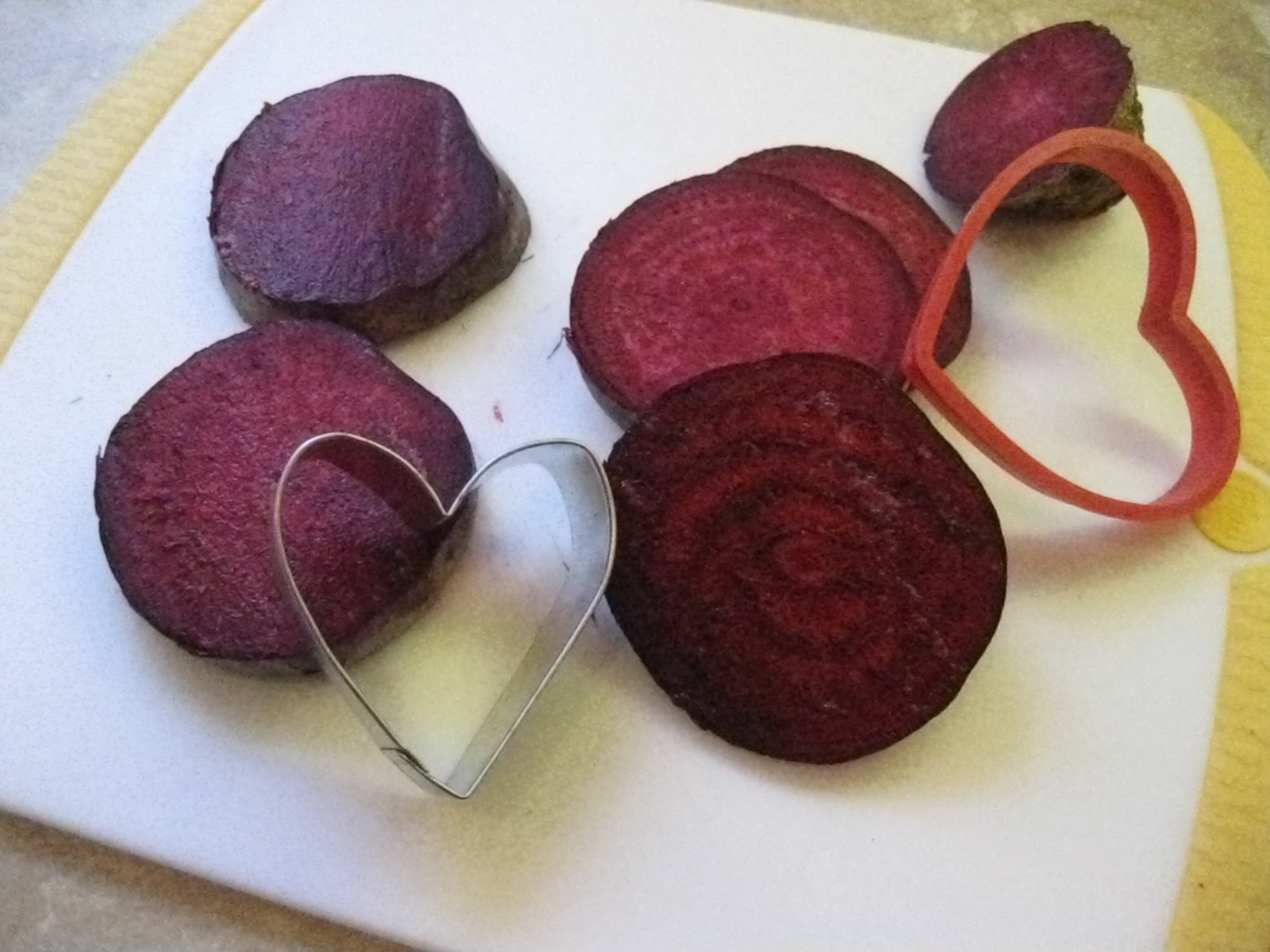 Slice your beets about one half inch to one inch in thickness.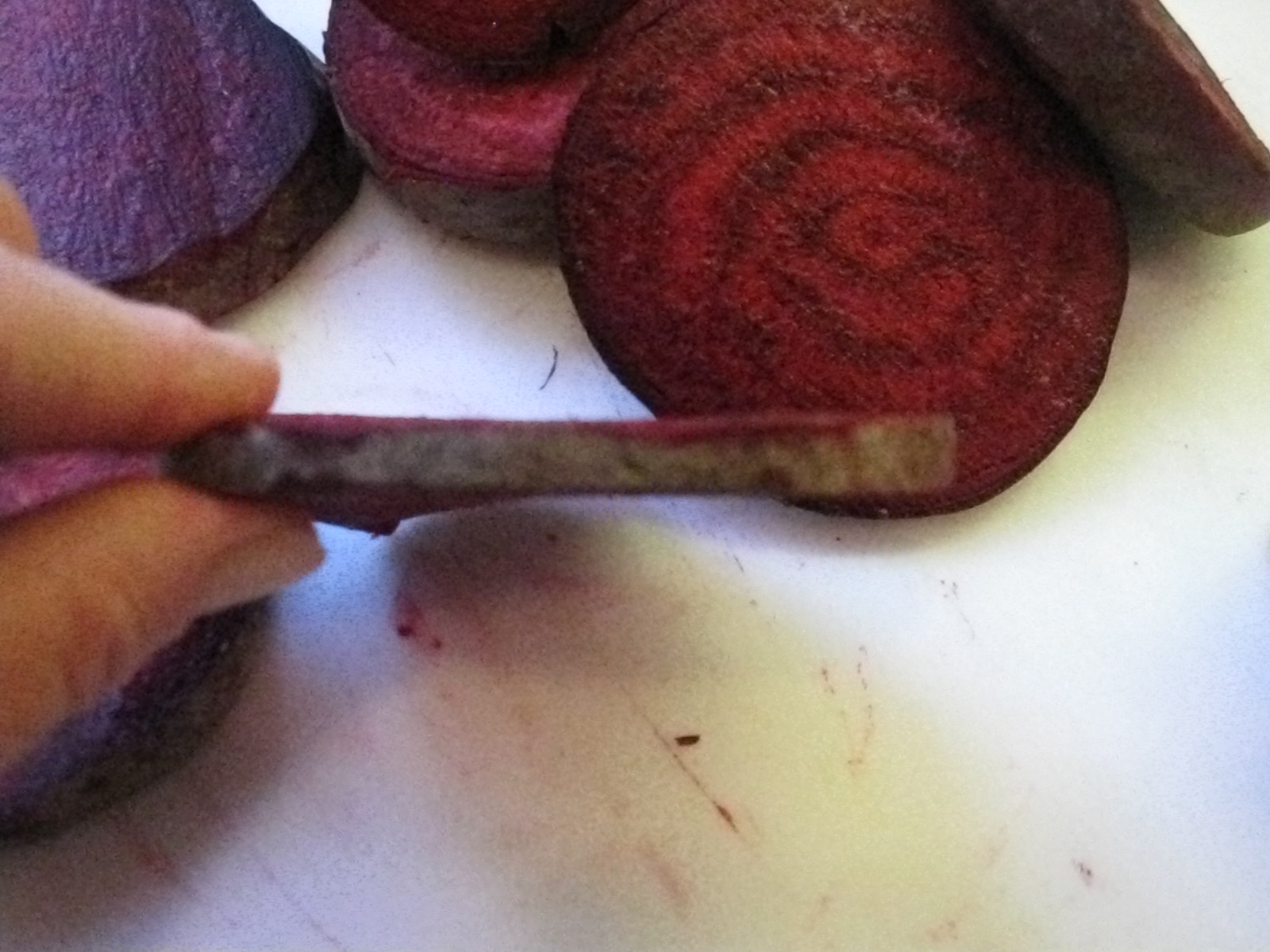 Press a metal cookie cutter firmly into the beet slice.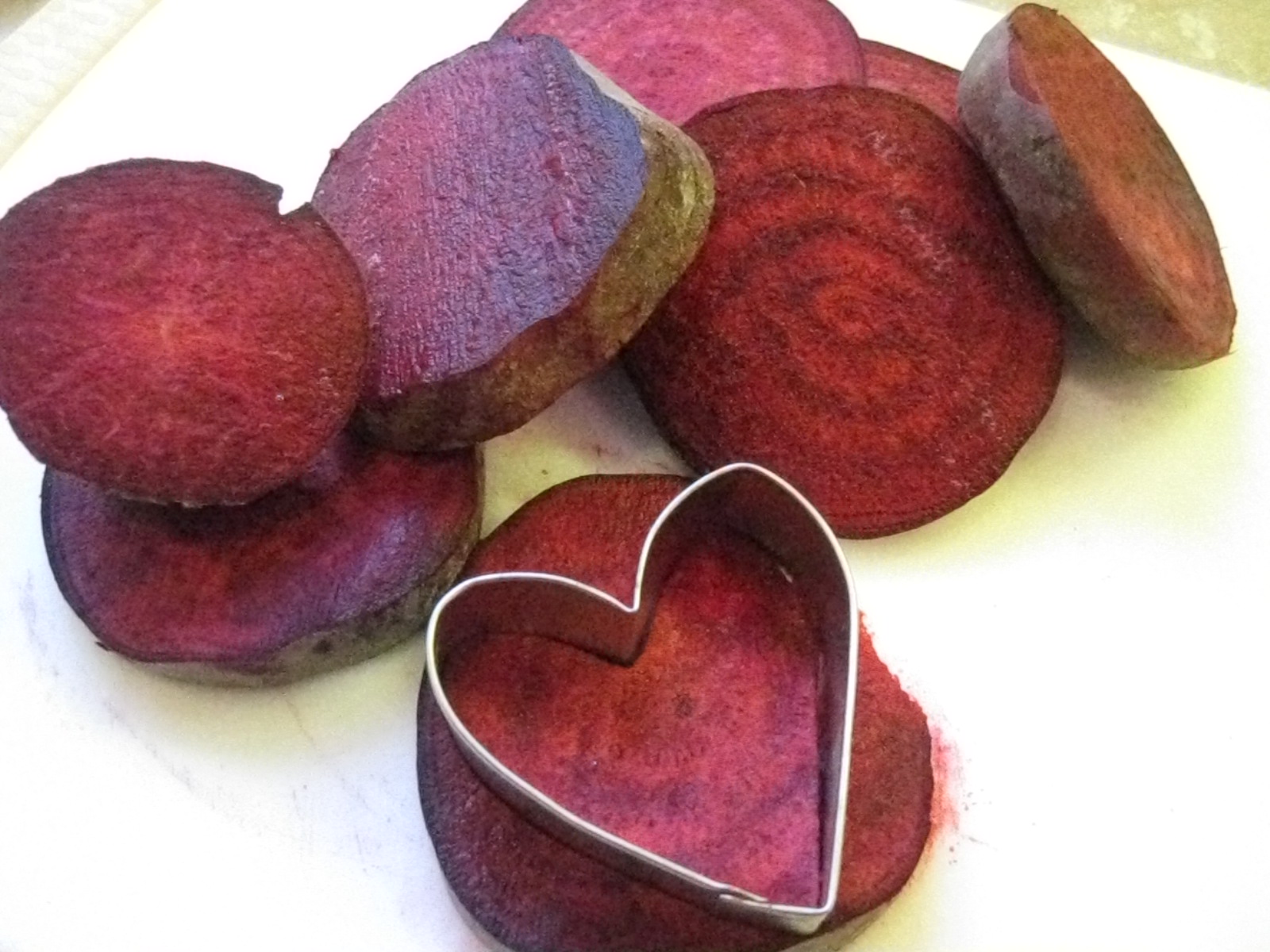 You will have a bevy of "heart beets" when you are finished!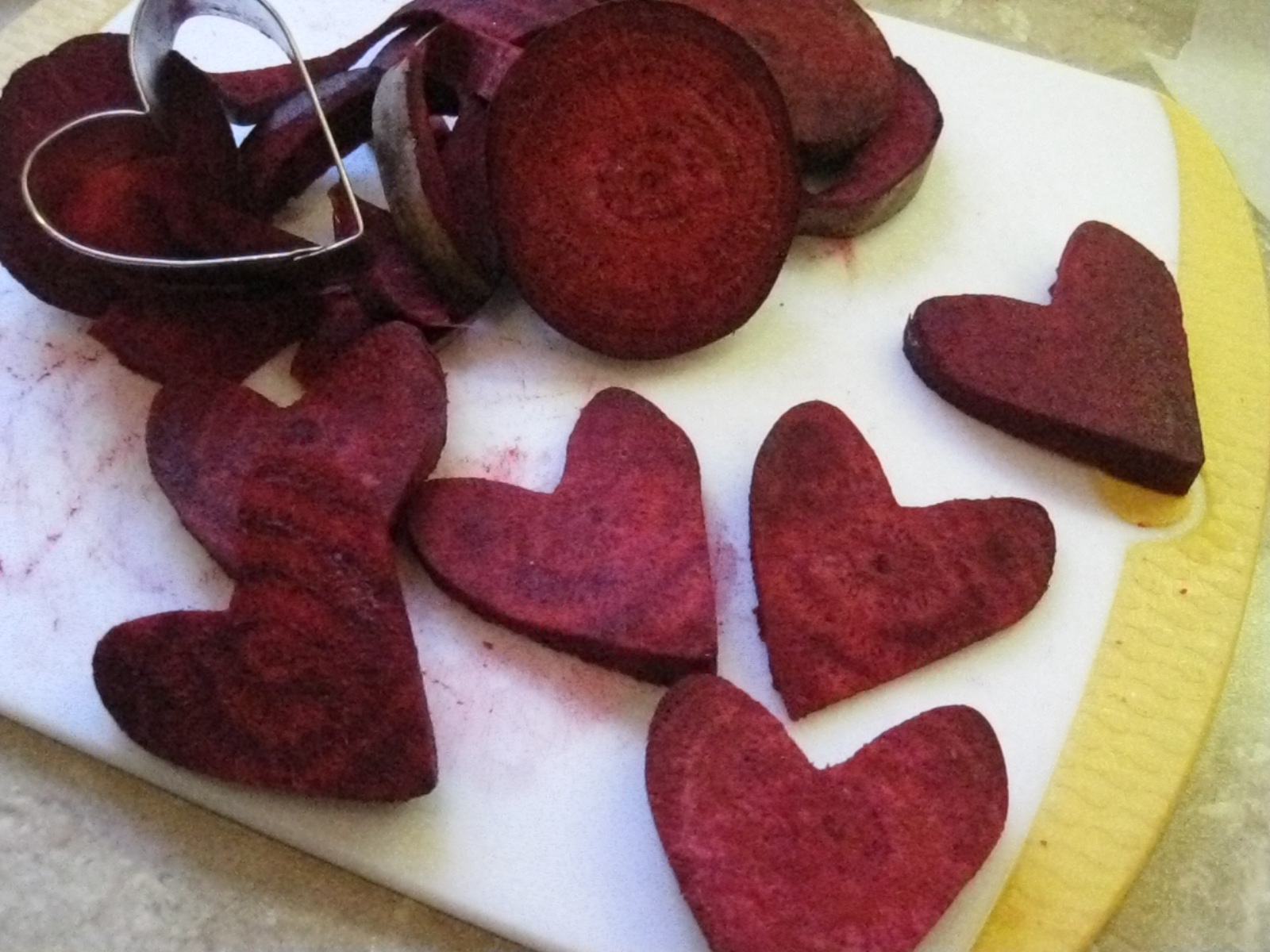 As another option, you can parboil some heart shaped beets ahead of time at home.  The softened cooked beets will produce a deeper red color when pressed onto the paper. Raw beets will produce a brighter coloration.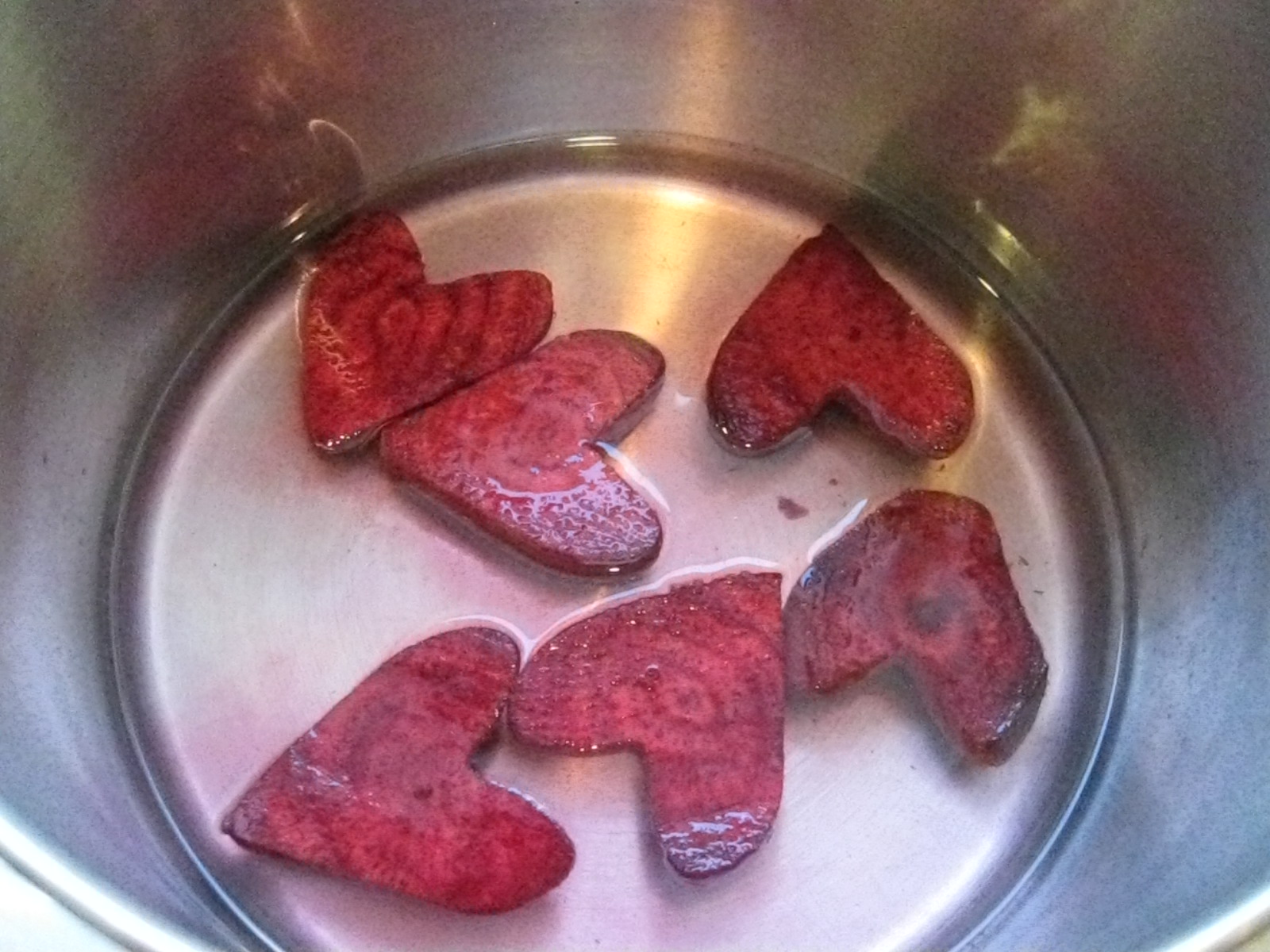 Press the heart shaped beets onto heavy art paper.  Press firmly and evenly in order to get the full shape imprinted onto the paper. Let your students decide how they want to arrange the design of the beets on their page.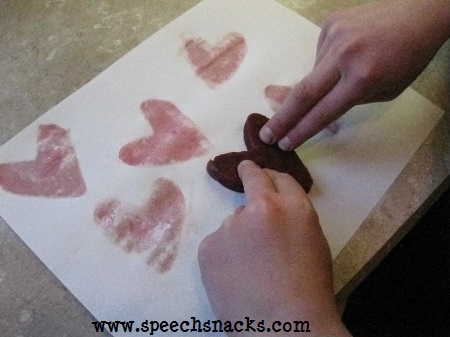 While pressing out the hearts, students can use this activity as a reinforcer while practicing targeted articulation, fluency and language goals!  Once the hearts have dried, you  can write words with their targeted speech sounds or new vocabulary onto the hearts.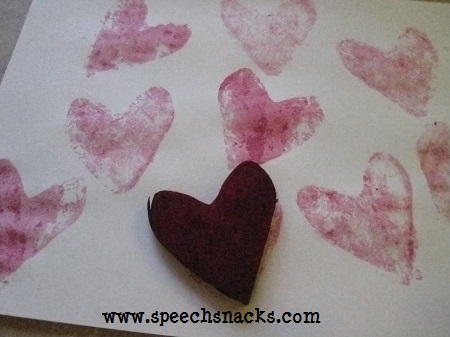 When finished, you can write the phrase "My heart beets for you!"  on their paper . Explain to your student that this word is called a homophone because while it is pronounced one way, it has more than one meaning and spelling (BEET/BEAT)!  Student can take their special projects home and share them with their favorite Valentine!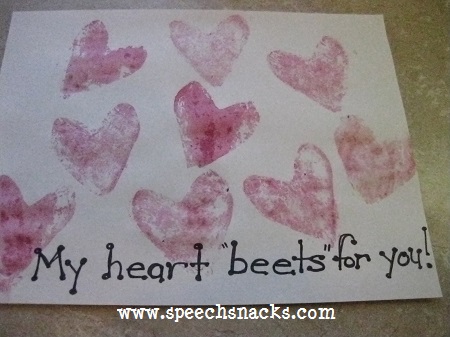 Here's a way to turn beets into a delicious and healthy Valentine salad….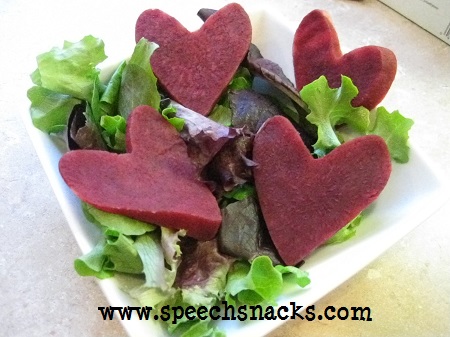 First, cut out some beets with a cookie cutter.  Then, throw them into a pot with lightly salted water and bring to a boil.  Boil for about 5 minutes—I like to just parboil them to preserve the vitamin value and vibrant color.  Next, drain the water from your pot and let the beets cool.  Finally,  lay them on top of a bed of mixed greens with a light balsamic dressing.  You've got a wonderfully healthy way to share the love this Valentine's Day—or any day of the year. (You can almost always find beets in season in the grocery store).
I have one more thing you may love before I go……a  Valentine FREEBIE!   It's in my Teacher's Pay Teacher's store so go grab your copy (and remember to leave me a kind word or two when you do!)  Use this activity to share a positive message with your students about the qualities that make them special and unique. This activity also serves as a great way to address social skills and perspective taking.