After a glorious week at the beach and vacation memories still fresh in my mind, I decided to dedicate this week's post to an essential item needed on your next visit to the ocean— beach snacks!!  And if you have kids, you know how important it is to pack those snacks in your beach bag before heading out for a day of fun in the sun.  After all, riding waves and making sand castles can work up quite an appetite.  This snack will quell the hunger pangs and provide lots of energy. The best part is that each ingredient represents things you find on the beach or in the ocean, which turns your snack into a language lesson in beach/ocean vocabulary!  Mix up a batch of this yummy treat with your kiddos at home as you identify and discuss the vocabulary together.   Take a dive into the  beach-themed game I have created to work on sentence building and descriptive words.  Enjoy, and remember—-"life's a beach when you have good language and speech!!"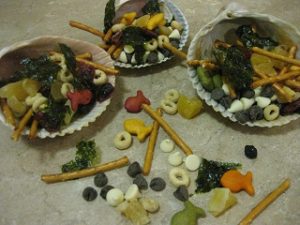 The following foods represent beach items:
pretzel sticks=driftwood
goldfish crackers=fish/ocean life
dark and white chocolate chips=beach pebbles
Cheerios cereal=life preservers
dried fruit=coral/seashells
dried seaweed=seaweed!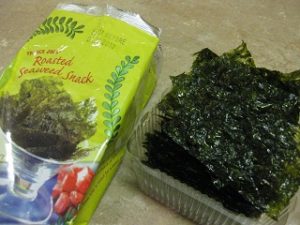 Have  you tried dried, roasted seaweed????  It's paper thin, has a salty, nutty flavor and is so good for you!!  I found mine in Trader Joe's.
Mix up all ingredients in a bowl.  Store in zip lock baggies—enjoy on the beach or anytime you want a healthy, energy-packed snack!
I created three different vocabulary game boards–each contains different beach/ocean words
You or your student picks a word on their game sheet and earns points by following the directions in each air bubble.(1 point=define it, 2 pts=describe it, 3 pts=use it in a sentence)
Give out the corresponding number of suns or clouds for correct responses.  Make multiple copies of the the sun/clouds sheet.  Count up all the suns and clouds at the end.  The student with the most suns is the winner!
 Suns and clouds to use as reinforcement for correct/incorrect responses