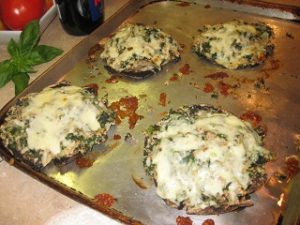 Meatless Mondays were first initiated during both World Wars.  It was a voluntary campaign put into place by the U.S. Presidents during war time asking the American people to do their part to aid the war effort.  As a result, many Americans discovered how much better they felt–eating less meat wasn't such a bad thing!     Meatless Monday was revived once again in  2003 as a public health campaign,  with the goal of improving overall well being and reducing our carbon footprint.  Today's "Portobello Pizza" is a great substitute for meat and just as satisfying!
 When ready to use, quickly rinse or wipe off portobellos with a damp towel. If the stems are attached, trim off the bottoms. Never wash mushrooms but if you have to, please use as little water as possible. A clean brush (like a paint brush) or cheesecloth is a good way to clean. Mushroom will absorb most of the water and when you cook them, they will get
very watery.   Click here to view video demo on how to clean a portobello mushroom
Almond Meal is used in place of bread crumbs for this recipe.  Almonds are a nutrient-dense food and a great way of sneaking some healthy stuff into your kids meals and baked goods.Research has shown that almonds lower blood cholesterol levels. 90 percent of the fats in  almonds are unsaturated, and the nuts are high in protein, fiber, calcium,
magnesium, potassium, vitamin E, and other antioxidants. Almonds help prevent osteoporosis and they regulate blood pressure.  I like to purchase bags of almond meal from Trader Joe's.
Click Here to view the Video Demonstration on Portobello Mushrooms with "speech snacks" for /p/ 
Steam (or briefly boil) the frozen spinach (or thaw for several hours beforehand).  Using a clean dishcloth, place the thawed spinach inside it and squeeze it out, removing as much excess liquid as possible.
 Place spinach in a bowl with Parmesan cheese, almond meal, one beaten egg, finely minced garlic, one chopped and sauteed onion, salt and pepper, fresh herbs.  Mix ingredients thoroughly.
 Fill mushroom caps with a handful of mixture and pat into a molded mound in center of mushroom. Sprinkle with a handful of grated mozzarella cheese.
 Bake in a 350 degree oven for 20-30 minutes until cheese on top of mushrooms is golden brown.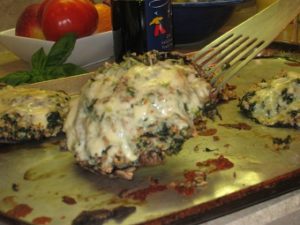 SPEECH SNACKS for /p/:
The /p/ sound is one of the earliest sounds produced by children.  It is master by most children by ages 2-3 years.   I tell my little ones to close their lips first, then to pop their lips open with a puff of air.  I have them hold a small mirror and watch their mouths practice the sound for visual feedback.  I will also hold a tissue in front of their mouth while they practice the sound.  If the tissue moves, it is a good indication that they are producing adequate puffs of air to produce the sound correctly.  We also have cotton ball races across a table, gently puffing air to produce a /p/ as we move our cotton balls.
To see more information on production of the /p/ sound, visit the Tortilla Pizza post.
Like all other sounds, mastering this sound at the syllable level first is necessary before moving on to words, phrases, sentence and conversation levels.
To practice this sound with the recipe for Portobello Mushroom Pizza, use the words PUSH, PAT, PRESS, PUT and POUR in your conversation while assembling the ingredients and filling the mushrooms.  Have them repeat these words after you.
Some of the ingredients also contain the /p/ sound: PARMESAN, PEPPER,  SPINACH….you can also practice words containing the /m/ and /b/ since both of these sounds are also produced in the same way as the /p/–these sound are called BILABIALS because they use both lips to produce them.  So include words like MUSHROOM,  BASIL, MIX, BLEND into your practice words while making this recipe.
Clap out the word POR-TO-BELL-O with your child.  It is a four syllable word and could be a bit of a challenge. Break it down into parts before expecting them to say it without errors in sentences and conversation.
COMPARE the crushed almond meal to whole almonds if you have some on hand. Talk about how they LOOK, FEEL and TASTE–how are they the same vs different in the two forms.
Talk about the SHAPE of the mushroom.  Name other things that are shaped like a circle to help build vocabulary skills.
Here are some fun children's books about Mushrooms to read with your kids:
Bamboo & Friends: The Mushroom Ring By Felicia Law.
The Wonderful Flight to the Mushroom Planet by Elanor Cameron
Read this story about two college students who started a healthy foods movement and educated kids about mushrooms