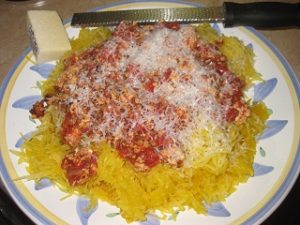 The first time I made this vegetable for my family, they honestly thought I had prepared a plate of spaghetti.  At first glance this unique vegetable does resemble the long thin strands of pasta that we are so accustomed to seeing on the dinner table with meat sauce or meatballs.  But if you look more closely, you will notice differences in color, texture, smell and of course taste. And while I love a plate of pasta for dinner, this dish is a nice change of pace and so healthful and nutritious!  This recipe contains ingredients that are associated with a Thanksgiving feast, namely squash and turkey, but with a twist—the Italian flavors found in tomatoes, onions and garlic.  Enjoy Thanksgiving and Italian cooking all in one dish.  "Buono Thanksgiving!"
Nutrition Facts About Spaghetti Squash
Spaghetti squash is classified as a winter squash, and  is harvested in the early fall. The name "spaghetti squash" comes from the fact  that once it is cooked, the inner pulp comes out in long spaghetti-like strands,  and can be substituted for spaghetti in pasta dishes. 

Spaghetti squash contains  both omega-3 and omega-6 fatty acids.  Omega-3 fatty acids are shown to help prevent heart disease  and cancer, as well as reduce inflammation that can cause arthritis. Omega-6 fatty acids work with the omega-3s to promote proper brain function, and  both fatty acids are essential to good health. 

Spaghetti squash contains vitamin A, vitamin C and several of the B vitamins,  including B6, B3 (niacin), B5 (pantothenic acid) and B9 (folate.)Vitamins A and C are antioxidant vitamins, which means they protect the body's  cells from damage caused by outside stimuli, such as stress and toxic  medications. The B vitamins are all necessary to convert carbohydrates into  energy, as well as to maintain proper cellular function.

Spaghetti squash also contains numerous minerals that are  essential to body functions. Calcium, potassium, magnesium, phosphorous, sodium,  manganese, selenium and zinc all play a different role in cellular function.
 There are different methods of  cooking spaghetti squash–one way is to cut it in half and bake it, face down, in a shallow pan with a little water.  You would bake at 350 degrees for about an hour.  Another method, which I prefer, is to place the whole squash in a large pot on the stove top.  I fill the pot with water so that it covers the squash entirely.  Bring the covered pot to a rolling boil and let it continue to cook on the stove for one hour.  After draining the water (use extreme caution as it will be very hot) let the squash sit for a few minutes to cool down.  Carefully cut the squash in half lengthwise.  It will still be very hot when cut open.  Allow the squash time to cool some more before attempting the next step.  Your kids can watch you cut it open and see what it looks like inside, however it will be too hot for them to touch.  Once it cools, they can have fun helping with the next step…..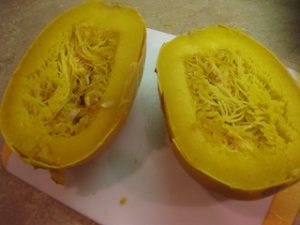 The inside of a spaghetti squash is quite deceiving.  You'd never know that it had the potential to look like spaghetti strands.  First you will want to pull away the initial pulp and seeds that are on the top layer of the interior.  Use a fork to gently pull away this portion.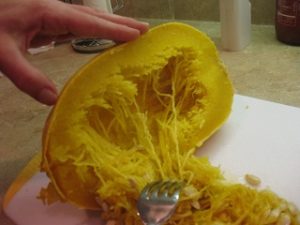 You will now have access to the heart of the squash.  If you have cooked the squash thoroughly, you will notice how easily the strands will separate from the skin or shell of the squash.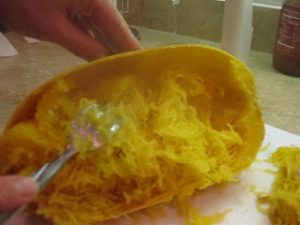 Continue to loosen the strands from the squash until you have completely hollowed it out.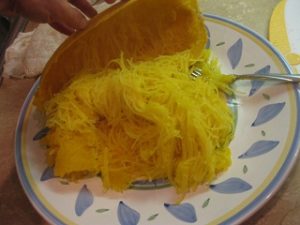 Use a large serving platter to pile up the squash strands into a loose mound.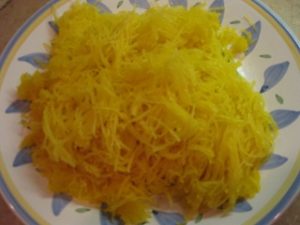 My family loves eating this vegetable with a "meat sauce."  I find that turkey is a great compliment to this vegetable and just makes sense that it should be served together, especially during the holidays.  Saute one onion with 3-4 cloves of garlic in a pan with olive oil.  Add 1 lb of ground turkey breast and cook thoroughly.  Season lightly with salt, pepper and Italian seasonings.  Add one 28 oz can of diced tomatoes in its juice.  You can add additional tomato sauce if you find that the canned tomatoes are not sufficient, but I did not find it necessary.  Incorporate all ingredients well.  Serve over spaghetti squash.  Top with freshly grated pecorino-romano cheese.  Enjoy a deliciously filling and nutritious meal that can stand alone as a main course any night of the week!
********************************************************************************************************************************************
SPEECHSNACKS FOR /S/ BLENDS:
Please refer to information on correct placement and production of the /s/ in the "Cinnamon Tortilla Chips" entry–click and scroll down to reveiw this information   .   /S/ blends are often mastered after a child has learned to produce the /s/, generally by age 7-8 by 90% of children. 
Here are some /s/blend words that were used in this recipe.  Reinforce these words as you make the recipe together.  Print and cut out the pictures above and use them as you practice the words:  

SPAGHETTI, SQUASH, STRINGY, STRANDS, SMELL,  SKIN, SLIPPERY, SCRAPE

Talk about the physical attributes of the squash BEFORE you cook it: SIZE, SHAPE, WEIGHT, COLOR.  This will help build descriptive skills.  COMPARE these descriptions to the appearance of the squash AFTER it has been cooked and cut open.      
Let your kiddos watch you clean out the seeds and separate out the strands, then let them try to do it themselves with the other half.    
 ASK them to name as many vegetables as they can think of. Now ask them to name as many YELLOW vegetables as they can think of.
Talk about other /s/ and /s/ blend words that have to do with the fall season and Thanksgiving.  Here are a few: 

SCARECROW, SQUIRRELS, SEEDS, SETTLERS, SWEET POTATO, STUFFING, STALK, SQUANTO, SERVE, SAUCE, SALAD.

Talk about the first Thanksgiving and things you and your kids are thankful for. 
Read: 

"I Know an Old Lady Who Swallowed a Pie

"by Alison Jackson. It has lots of great opportunities to practice the /sw/ blend and other /s/ words that she swallowed: 

SQUASH, CIDER, SALAD

. 
KIDS BOOKS ABOUT THANKSGIVING:
1, 2, 3, Thanksgiving!
by W. Nikola-Lisa, illustrated by Robin Kramer
This counting book leads children through Papa's one fat turkey,
Mama's two pumpkin pies, and so on as the family sits down to a Thanksgiving feast
Arthur's Thanksgiving by Marc Brown
Arthur finds his role as director of the Thanksgiving play a difficult one, especially since no one will
agree to play the turkey
Cranberry Thanksgiving by Wende Devlin, Harry Devlin
Maggie and her grandmother each invite a guest to their Thanksgiving feast, featuring
Grandmother's own cranberry bread, made from a secret recipe
Franklin's Thanksgiving by Sharon Jennings, Paulette Bourgeois,  Illustrated by Brenda Clark
Franklin's grandparents can't come for Thanksgiving. Franklin is very sad until he begins asking other friends and
their families to come to his house. What will happen when all the people they
invite can't fit into the house?
Pilgrim's First Thanksgiving by Ann McGovern
Somewhat longer picture book that explains voyage of the Pilgrims, their becoming friends with
Squanto, and the first feast.
The Story of the Pilgrims
by Carolyn Croll (Illustrator), Katharine K. Ross
Short picture book that explains voyage of the Pilgrims, their
becoming friends with Squanto, and the first feast
A Turkey for Thanksgiving
by Eve Bunting, illustrated by Diane de Groat
Mrs. Moose wants a turkey for Thanksgiving. Mr. Moose finds a
turkey…what happens next is a surprise ending
Twas the Night Before Thanksgiving by Dav Pilkey
A tall tale of how 8 school children on a field trip bring home some unexpected Thanksgiving
guests.