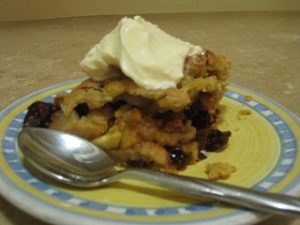 If your kids like to help you cook in the kitchen,  then you are sure to have a great time preparing this recipe together.    And if they are working on the /l/ sound, you will find lots of opportunities to reinforce this sound, work on direction following, practice sequencing steps and your older kids will have a chance to practically apply their knowledge of fractions.
When my son was in preschool, we took a cooking class together.  This is one of the many fun recipes we learned to prepare.  It's been several years since we took that cooking class—(time sure flies the older we get)—and  I still enjoy making this simple apple pie with him and reliving the memories of that special "mommy-son time" we shared not so long ago!
Not only are apples nutritious for kids and adults alike, but did you know that apples can help us grown-ups with weight loss??? 
These marvels of nature deserve their reputation for keeping the doctor away when you eat one a day. And now, it seems, they can help you melt the fat away
too. First of all, they elevate your blood glucose (sugar) levels in a safe, gentle manner and keep them up longer than most foods. As a result, it leaves you feeling satisfied longer, say researchers.
Secondly, they're one of the richest sources of soluble fiber in the supermarket. This type of fiber prevents hunger pangs by guarding against dangerous swings or drops in your blood sugar level, says Dr. James Anderson of the University of Kentucky's School of Medicine.
An average size apple provides only 81 calories and has no sodium, saturated fat or cholesterol. You'll also get the added health benefits of lowering the level of cholesterol already in your blood as well as lowering your blood pressure.
 Speech Snacks for /l/:
While rolling out your pie dough,  practice /l/ at the sound level–as you or your kiddo rolls the dough, have them prolong the /l/ sound
At the syllable level, slowly practice  la, le, li, lo, lu while rolling—also practice the middle /l/ syllable ala-ele-ili-olo-ulu and the final /l/ syllable al-el-il-ol-ul
Incorporate these key /l/ words into your conversation while making the recipe together:
ROLL, SALT, CHILL, TABLESPOON, BLEND, LEMON, WALNUTS, APPLES, SLICE, PEEL, SPRINKLE, FOLD
Practice these /l/ phrases:  ROLL THE DOUGH, CHILL THE DOUGH, FOLD THE DOUGH, SQUEEZE THE LEMON, PEEL THE APPLES, SLICE THE APPLES, SPRINKLE THE SUGAR
DESCRIBE the apples using words like: round, shiny, green, red, crunchy, sweet, tart, hard.  Model the descriptive word+apple to practice /l/ phrases
Have your child name as many fruits as they can to work on CATEGORIZATION, do the same with the concept of round and have them name as many round objects as they can think of.
Print and cut out the pictures above and have your child put them in the correct order and try to RECALL as many STEP or DETAILS of the recipe as they can
Have your older children identify the fractions used for measuring the ingredients in this recipe.  Let them use the measuring cups and spoons to practice this math skill.
BOOKS TO READ ABOUT APPLES:
Ten Apples Up On Top by Dr. Seuss
How to Make Apple Pie and See the World by Marjorie Priceman
Apple Fractions by Jerry Pallotta
The Apple Pie Tree by Zoe Hall
Johnny Appleseed by Steven Kellog 
The Seasons of Arnold's Apple Tree by Gail Gibbons