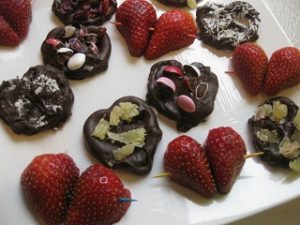 It's all about HEARTS in this week's post! In honor of Valentine's Day, here's 1- a quick and creative sweet treat (chocolate heart pretzels), 2-a healthy fruit treat (strawberry hearts and arrows) and 3- a few speech and language treats (Valentine themed games)—to win the hearts of all my "SpeechSnacks" Valentines!
CHOCOLATE COVERED HEARTS (PRETZELS)   
HEARTS WITH ARROWS:
Use this quick and simple treat to address the concepts of HALF and WHOLE with your kiddos….compare the whole-vs- cut strawberries.
Try cutting a strawberry in half  so that both halves are perfectly equal…then talk about EQUAL and NOT EQUAL or SAME and DIFFERENT!
Wow…didn't realize you could learn so much from a strawberry!!
Valentine Games for Speech and Language:
GAME #1–GUESS MY VALENTINE FRIEND
As a speech therapist who is currently working with preschoolers, one of the most popular topics with my little ones  is superheroes and princesses.  When we incorportate these themes into our lessons, their eyes always light up and I have their undivided attention!  Thus, the inspiration for this week's game.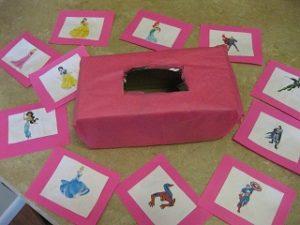 To play this game, you will need a tissue box covered with tissue paper or wrapping paper.  Cut a hole in the top.
You will need to purchase Valentine cards with princess and superhero characters.  Purchase multiple boxes of the same type of cards for use with this game.
Put all cards in the "valentine mailbox". Each child takes a turn pulling out a card.  He starts the sentence by saying "My Valentine Friend…." and must say three things describing his picture.  Other students in the group are then given a chance to guess who he is describing.
 Also play as a WH game:  Give each student a set of cards.  Everyone should be given the same cards. (either all princesses or all superheroes) Have students take turns asking questions i.e. "What color dress is your princess wearing" or "What special power does your superhero have?"
This game addresses many concepts:
1. Articulation
to practice the /f/ and /v/ at the sentence level "my

V

alentine Friend…"
to monitor speech sounds in carryover
2. Language skills for:
increasing the length and complexity of utterances
improving the ability to use descriptive words and adding details
Asking/answering WH questions
GAME # 2—PLAYING GAMES WITH MY HEART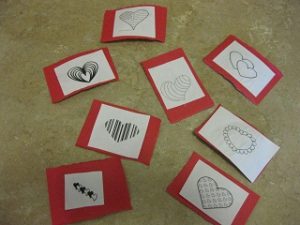 Try this game with your kiddos who are working on language goals related to IDIOMS, INFERENCING, SENTENCE BUIILDING and CARRYOVER FOR ARTICULATION—Print out the Heart cards above and use them with to play the game found in the "Heart Warming Words" link.