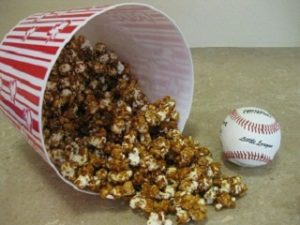 With the baseball season in "full swing," (sorry but the puns will be plentiful in this post!)  I was inspired to create a treat that was reminiscent of America's  favorite past time. I researched several different versions of crackerjacks on recipe websites.  I thought some contained way too much sugar, others overdid it with butter.  After "striking out" with several versions, this recipe seemed "scored some points"  for having a conservative balance of sugar and butter without overdoing it.  I don't think my family will ever go back to a box a cracker jacks at the ball park again….I may just try to sneak in this homemade concoction instead!  To go along with my baseball themed treat,  I created a baseball game that was versatile enough to use with both my language and speech kiddos.  And I found a baseball field/whiteboard app on my ipad to help us keep track of our game…the kids loved watching their game come to life with this simplistic visual. I used a tissue box to create a "batter's box" which contained all our  playing cards…and it was an opportunity to explain another baseball term to the kids who didn't know what a real batters box was.  This is a great snack for families to make at home or for SLP's to make and bring in to school to share with students (please be sure to check for peanut allergies—omit peanuts if this presents an issue).   This treat and game activity are sure to "hit a home run" with your little sluggers—so let's play ball!!
 HOMEMADE PEANUTS AND CRACKERJACKS
(recipe website credit: Mommy's Kitchen) 
Here's a fun way to incorporate the baseball theme into your articulation and language lessons.  I created these cards using my new favorite ipad app—Custom Boards by Smarty Ears!!Grab your baseball game cards  here.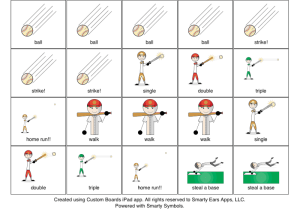 This game can be played with two or more students.  If you have an individual student session, you can form a teacher vs. student game. Use a tissue box to make a "batter's box" to hold your game cards.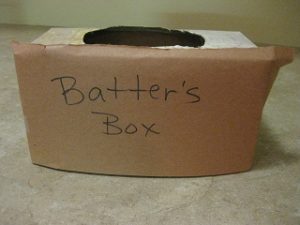 Your students can reach in to pull out a card.  Cards will indicate what action to take on the playing field (ball, strike, single, double, triple, homerun, walk, steal a base). I used this game with an articulation group working on sounds at the sentence level.  After they practiced their sentence, they could draw a card from the batter's box.  The game would work the same way for addressing vocabulary building (antonyms, synonyms, etc.), answering comprehension questions, or any other language goal.
Check out this free itunes app iPlaybookPlay for keeping track of your baseball game on your ipad or ipod touch .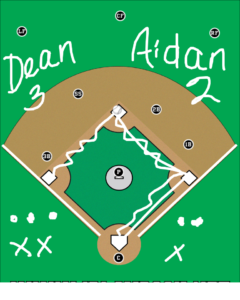 You can also print  out the diagram here: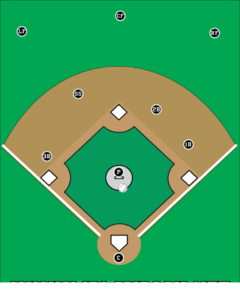 …..or use a whiteboard to draw your own diagram: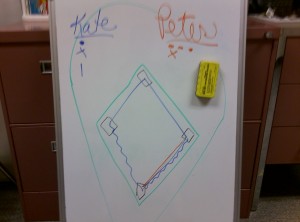 "Speechsnacks" loves feedback…..if you enjoyed the recipe and game in this post, tell me about it by responding in the comments box or dropping me an email at rokesting@verizon.net ….and sign up for my newsletter to receive more great recipes and therapy ideas in your inbox!!