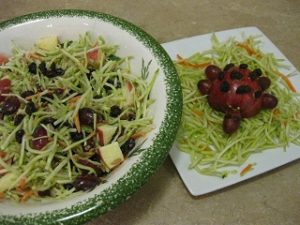 Have you started planting your summer garden yet??  Will it be filled with flowers? Vegetables?  Both?  No matter what you decide to plant, you are sure to find lots of these little buggers in your flowers and veggies all season long—ladybugs!  So after I planted my flowers last week I was inspired to create a post that was seasonally appropriate, healthy, and a fun way to get the kids to try some fruits and veggies!  I recently discovered broccoli slaw in Trader Joe's and have been using it to make salads every chance I get!  The ingredients double as a kid friendly "ladybug" salad and a crunchy, refreshing and sweet salad that grown ups will find satisfying as well.  I have also created my first post using Custom Boards by Smarty Ears (it was on sale this month for Better Hearing and Speech Month so I took full advantage.)  I LOVE this app for so many reasons—-you can create flashcards, game boards, worksheets…the possibilities are endless!!  Hope your speech kiddos working on /l/ at the sentence level find it fun and informative—not only will they be practicing their /l/, but learning some interesting facts about this cool creature as well!  And don't forget to check out my fun video for ladybug salad—learn some math and spatial concepts while playing with your fruits and veggies!!

LADYBUG SALAD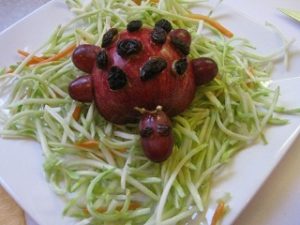 Almost too cute to eat!! I left the broccoli slaw plain, however if your kiddo has a favorite dressing then add it to the salad or on the side of the plate.
AND NOW FOR THE GROWN-UP FRIENDLY VERSION…..
For this game you will be making two piles:  1–/l/ sentence card pile  which also indicates how many ladybugs to draw from the pile  and 2–ladybug cards/ladybug catchers
If your kiddo is working on the /l/ sound, this is a fun and informative way to practice their sound. The game sheet includes 20 cards.  15 are /l/ sentences and facts about ladybugs.  The last row of picture cards are "ladybug catchers."  Make an extra copy of this sheet so that you have additional "ladybug catchers" to add to the second card pile.  You can also add the second copy of /l/sentences to the pile for additional opportunities to practice the sentences.
1–LADYBUG GAME CARDS—/l/ sentences—GRAB IT HERE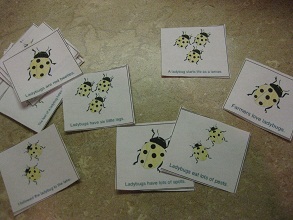 This set of printables includes 20 individual ladybugs.  Print out this sheet and make 3 additional copies.  Cut out the cards, place them on construction paper and laminate for extra durability.  You will have a total of 80 ladybugs to use.
2–LADYBUG PRINTABLE BUGS—GRAB IT HERE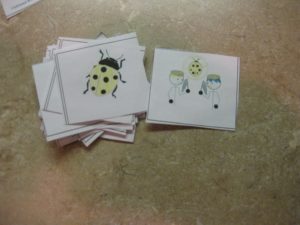 To Play:
Pick a sentence card.  Say the sentence using a good /l/.
Draw from the second pile as many ladybugs as are indicated on the sentence card.
Continue around the group collecting as many ladybugs as each card indicates after good /l/ productions are made.
If you draw a ladybug catcher, you must put all your ladybugs back in the card pile!!
Play continues until the sentence pile is used up.
Count all your ladybugs to see who has collected the most!
****Cards can also be used to address auditory memory skills for remembering a short sentence as well as auditory comprehension for the ladybug facts!