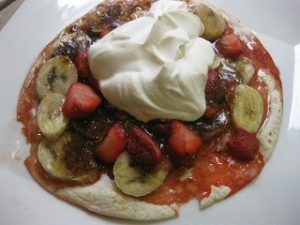 Many of the recipes that I post are based on the wholesome, nutritious foods that I make for my family on a regular basis.   Other recipe posts are inspired by a speech or language concept I am working on with my students.  Still others are inspired by something delicious I tasted in a restaurant.  And many are based on an experience I may have had while visiting a particular destination.  Throughout the summer months you will be getting a taste of my family's weekly trips to our farm.  Well, it's not exactly all ours (although I do love the sound of that), but it is partially ours.  We are shareholders at a local farm that is part of an organization called Community Supported Agriculture or CSA–find out more about it here.   Over the last 20 years, Community Supported Agriculture (CSA) has become a popular way for consumers to buy local, seasonal food directly from a farmer.  A farmer offers a certain number of "shares" to the public.  Interested consumers purchase a share (or "membership" )and in return receive seasonal produce each week throughout the farming season.  Many of the vegetables are pre-picked for you, however our farm also includes u-pick fields which includes strawberries, peas, herbs and wild flowers.  What a great experience for your kids—-and a wonderful way to learn and build language concepts.  Take a look at the beautiful CSA farm we belong to here.
The past few weeks have been strawberry season at the farm, and boy were they sweet–and abundant.  We  had more than enough to enjoy in cereal, ice cream and  by the handful, and still more to freeze for later.   This week's recipe was one more way to indulge in one of nature's sweetest treats.   I have included ways to address language skills for vocabulary building, sequencing and spatial concepts in a fun video segment.  Check it out here!!  
I also created a little book called "Where's the Strawberry?" that you can make with your preschoolers working on spatial concepts for ON, IN, BETWEEN, UNDER, ABOVE, IN FRONT, BEHIND.  Cut out the Strawberry Cards and have your kiddos glue them in the correct location on each page—grab it here!!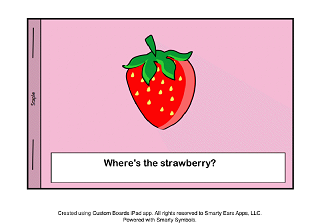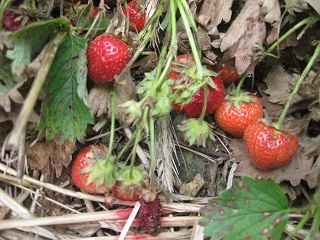 Strawberries and Cream Tortilla Pizza 
Preheat oven to 350 degrees—
Ingredients:
2 flour tortillas (or rice tortillas for a gluten-free option)
2 medium bananas, sliced
1 cup strawberries, sliced
for caramelized topping:
3 tablespoons brown sugar
1 teaspoon cinnamon
2 tablespoons unsalted butter (room temperature)
for whipped topping:
2/3 cup heavy cream
2 tablespoons granulated sugar
1 teaspoon vanilla extract
1/2 cup Greek strained yogurt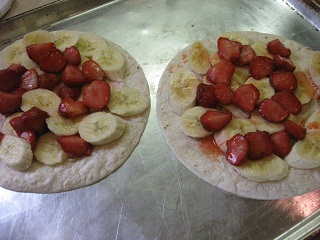 Print out the pictures and practice sequencing skills.  Cut out the pictures, review the steps in the recipe, then ask your child to try and put them in the correct order.