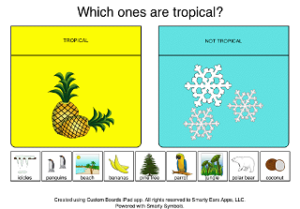 If the summer's heat has you feeling as wilted as your flower beds, then you are surely in no mood to cook!  This week's recipe is quick, light and refreshing.  It requires no oven, yet you can add a little "heat"  (jalepenos) if you wish.    Get your kiddos involved as you use this opportunity to help them build language and sequencing skills.  Check out this week's video and get inspired!!  Take them on a journey around the world as you talk about tropical fruits and islands.  Explore your backyard herb garden together as another means of building their vocabulary knowledge.  I've also included a sorting task from my TpT store (download and print) for tropical vs. not-tropical items.  Help your kids identify which category the objects belong in.   Wow—all of this is possible simply by creating a recipe together!!  And hang on 'til the end of the video segment and watch how we make a pineapple-coconut drink that the whole family can enjoy.   Your taste of the islands awaits.   
Tropical Pineapple-Cilantro Salsa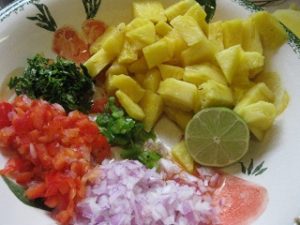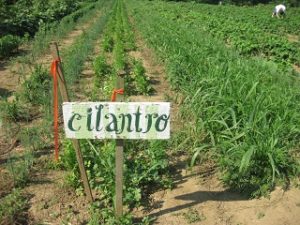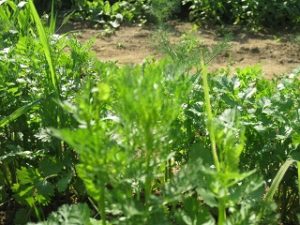 The cilantro used in this salsa came from the beautiful  farm where we are shareholders.  You can visit it here.
To Core a Pineapple: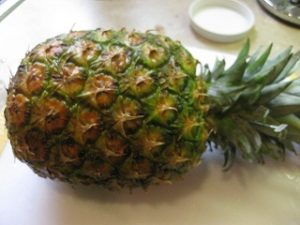 Cut off the top, below the green leaves.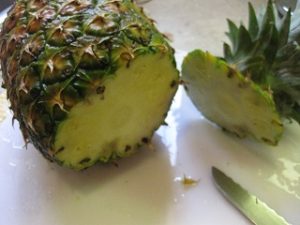 Cut off the bottom.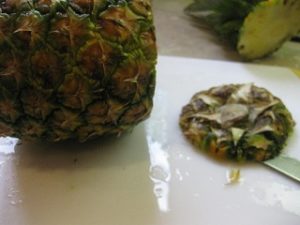 Stand the pineapple upright on one freshly-cut flat end
Place the knife at the top of the pineapple, about 1/4 inch from the edge, and  press downward to cut off a section of the pineapple's skin. Spin the pineapple  clockwise and repeat the process until all the skin is trimmed away. Take care  to remove as little flesh as possible.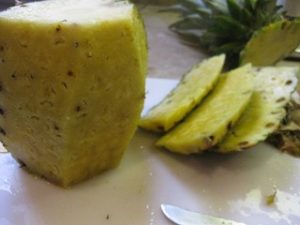 Set the pineapple upright and cut lengthwise into quarters. The core is fibrous  and is a lighter color than the fruit.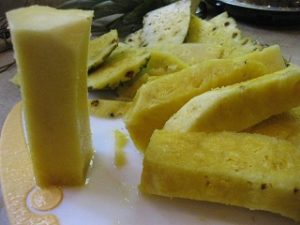 *
Use caution when handling your knife; a pineapple's skin is very tough