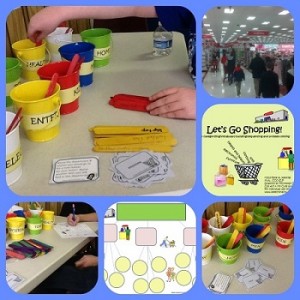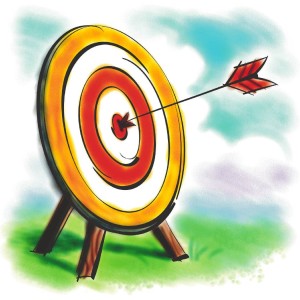 This past week, the wonderful, private school where I work, went on a field trip.  It was truly a cross-curricular lesson as well as a life lesson— in community service and reaching out to those in need, in math skills for creating a budget and estimating, in social skills for speaking to sales associates when requesting assistance, in  executive functioning for planning out where and how to look for items on the list and then pack them up and send them off, and  as a written language exercise for constructing a thank you letter to the store after our visit was complete.  And when it was finished, I found that it was a great opportunity to reinforce so many skills (categorizing/classifying, sequencing, problem solving/social skills) when we returned to the classroom. (Read on to see how this outing was turned into a language activity available in my TeachersPayTeachers store)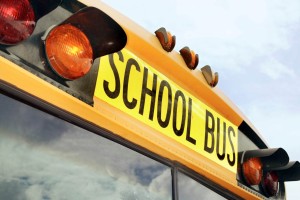 The entire school filed on to the school buses and went shopping!  (I've been on many field trips as the mom of an elementary school aged child and a room parent, but I have never been on a field trip quite like this one.)  Our school is small, so all the students were fortunate enough to participate.  Our mission was to purchase much needed items for a school that had received extensive damage after Hurricane Sandy.  They requested  items for their music and physical education departments and we were there to help!
Our students are broken up into small groups called "social houses" on the days we address social/community projects, so each social house was assigned a store to search out items on the school's wish list.   Each group contained 7-10 students and 3-4 teachers.  Buses dropped us off at music stores, sporting goods stores, toy stores and "big box" stores—a.k.a. Target (this is where my group was assigned).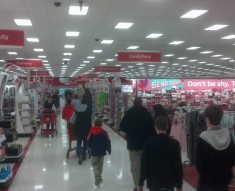 Each social house was given a budget of $200.00. Prior to the trip, the students prepared and  researched the items on line in their math classes to get a better idea of how much they could purchase prior to the trip.  We had a game plan in place for which departments to tackle first.  Our list included requests for extension cords, headphones, soccer balls, footballs, basketballs, wiffle balls and bats.  We compared prices, brand names and guesstimated how much and how many we could purchase.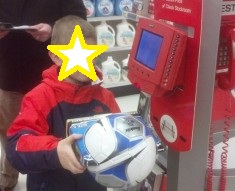 Our students range in ages from 10-18.  All age levels are represented in the social house groups.  Their ability to work together and make decisions was impressive!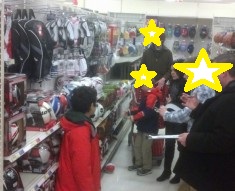 With clipboards and calculators in hand we managed to spend—almost to the penny—the amount allotted.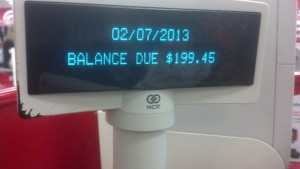 After returning to school we boxed up our newly purchased goods and prepared them to be shipped off to the school in need.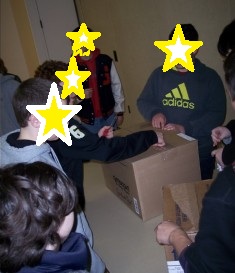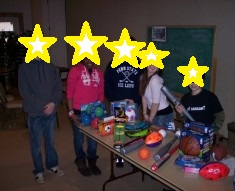 Finally, we collaborated as a group and wrote a well-constructed thank you letter to the business we had just visited, thanking them for their assistance during our visit.
So today, I have an activity to share that was inspired by our shopping trip to Target and a great way to address CATEGORIZATION/CLASSIFYING/SOCIAL SKILLS AND PROBLEM SOLVING.  After all, the store we shopped in is a speech therapists playground when it comes to working on the above mentioned goals!! I cant think of a better way to address strategies for sorting, generating categories and lists, and organization than by walking the aisles of any department store, grocery store or big box "everything" store!!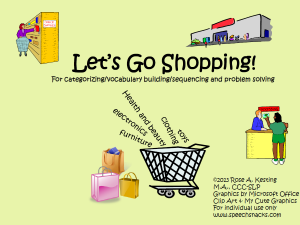 First, I came up with a list of shopping words based on general terms we see, hear and use in this setting.  You can use these cards to discuss word meanings or put in sentences.
Find the complete download in my TpT store here!!!
Then I created a set of problem solving scenarios based on some of the actual situations we faced in the store that day.  Others were based on real-life possibilities that one might encounter while shopping.
I also created a set of cards that ask the student to name the correct department, section and items within that department based on the information provided.
Finally I created several ways to address categorization and sorting to help us generate a list of items that are found in various sections of  department stores.
I made a simple graphic for listing items into categories (departments), subcategories (sections), and items (details):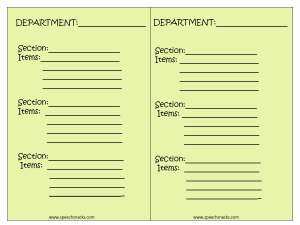 An another option, they could fill in this top-down graphic organizer with shapes that represent the break down of department, section and items.
And finally we did a sorting task for the  kids who needed a guided, receptive exercise for organizing items found in each department.  Take note of the buckets and craft sticks used.  I purchased these at that store that we initially visited to make our donation purchases—-these items were found in the dollar bin—-gotta love "Targeting" language goals with bargain-priced materials.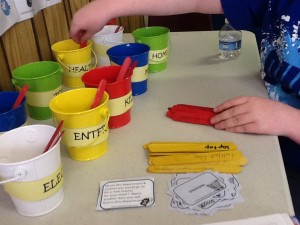 The names of the different departments are taped to the cans (these labels are included in the download).  On the red sticks are names of sections within the departments and yellow sticks contained items found within the departments (i.e. Department: Electronics, sections: phones, computers, cameras, items: pre-paid phones, iPhones, monitors, mouse pads, camera cases) Students sorted the sticks into the proper cans.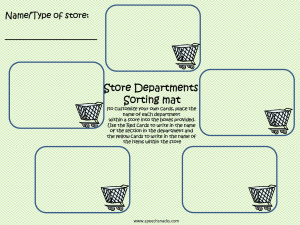 I also made some blank sorting mats to fill in your own store departments, sections and items to keep it open-ended and easy to customize to your own needs. You can use these in place of the containers and sticks.
With some students, I skipped this step and went straight to the organizational charts where they needed to generate their own responses without the sorting task.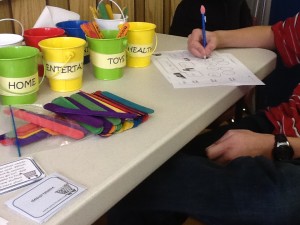 Although not all schools get the opportunity to go on a trip such as this one, you can certainly use the activity  I created to pretend you are shopping right in your therapy room.   It's an effective way to practice life skills, organization skills and vocabulary building—now that's what I call one-stop shopping!