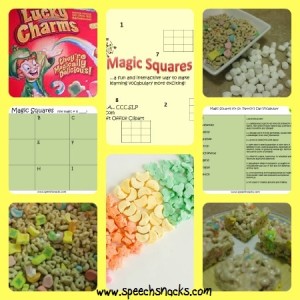 This week I am using Lucky Charms cereal to create Magic Squares.  Although I don't advocate indulging in sugary breakfast cereals, I do believe in "everything in moderation."  This kid-centered , simple to make sweet treat is perfect for a St. Patty's or Spring-themed party, home project or classroom activity.
Lucky Charms cereal has been around a long time (51 years to be exact)!  The cereal  has evolved over the years and the contents have changed with the times. The first boxes of Lucky Charms cereal contained marshmallows in the shapes of pink hearts, yellow moons, orange stars, and green clovers.  Today you will find that several of the original marshmallow shapes no longer exist and have been replaced with new marshmallow charms such as hats, rainbows, balloons, pots of gold and horseshoes. The marshmallows are meant to represent Lucky's (the leprechaun character on the cover of the box) magical charms, each of which having their own special meaning or "powers."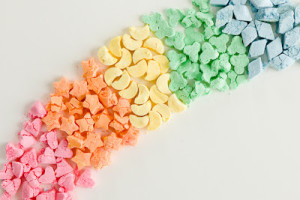 Hearts – power to bring things to life       Shooting Stars – power to fly   Horseshoes – power to speed things up    Clovers – luck, but you will never know what kind of luck you'll get
Blue Moons – power of invisibility    Rainbows – instantaneous travel from place to place    Balloons – power to make things float      Hourglass – power to control time
Here's how I'm using the marshmallow charms in my therapy sessions:  After telling the students what the various shapes represent, they will get to pick a shape from a bowl and tell me how they would use that power.  For example, if they pick a heart, (the power to bring things to life), I will ask them what they would bring to life if they had the power.  This is a great way to work on higher level thinking tasks, problem solving, WH questions and story building!
Scroll down for the complete recipe and detailed step-by step pictures for Magic Squares and ways to build language as you create this treat!
And yet again, the food was the  inspiration behind the therapy idea.   I've created Magic Squares— fun and interactive vocabulary!    This game is intended for upper elementary/middle school and high school age students on your caseload.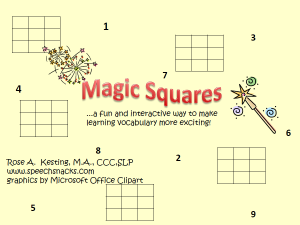 Magic Squares is a mathematical game that began in China several thousands of years ago.  Squares are assigned numbers which, when added across, down or diagonally always equal the same sum.  I've taken this game and incorporated vocabulary words into the squares—making a fun, challenging and interactive way to work on learning new vocabulary.
I've create 6 magic square activities–each with 9 vocabulary words.   You can purchase the complete download of all 6 games including the following themes:  weather words, March Madness Basketball terms, Flower Power vocabulary,  color words, spring changes terms.  While the treat is suitable for kids of any age, the language activity is most appropriate for middle school and high school age students. Most of my caseload is made up of older students who could benefit from vocabulary building activities–and this seemed like an interesting way to keep them motivated!
For practicality, slide the grid sheet and vocabulary sheet into clear plastic sleeves and use a dry erase marker to fill in the grid and to match up vocabulary.  Wipe clean when finished and it is ready to use again.
Also included is a graphic organizer—use it to expand on the word meanings by asking your students to create sentences for each word, give an antonym or synonym (if there is one), and draw a picture demonstrating the word meaning.
 Magic Squares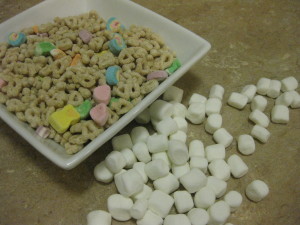 You will need:  5 cups Lucky Charms cereal, 3 1/2 cups marshmallows, 3 tablespoons butter
***Have a hotplate????  This activity is easy enough to make in the classroom/therapy room.  Please check for food allergies before completing a food-related activity at school!!!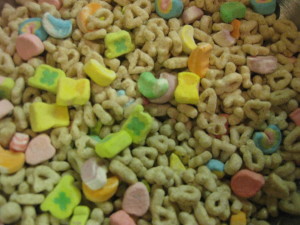 I found this graphing chart freebie at www.teachingheart.net.  It looks like a fun way to work on sorting skills and the concepts "more," "most", "least" and "how many?"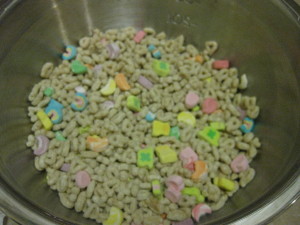 This activity is a great way to work on sequencing, measuring and reinforcing action words like POUR, MIX, MEASURE, STIR, MELT, PRESS, CUT.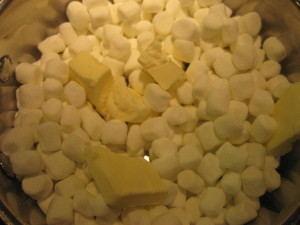 Add marshmallows and butter to a large pan.  Melt over low heat—stirring constantly until smooth and fully melted. (adult supervision required!!)
Observe the appearance of the marshmallows and butter BEFORE they melt……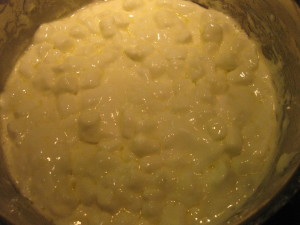 ………compare it to the mixture AFTER it has melted and discuss what happened and how it's appearance has changed.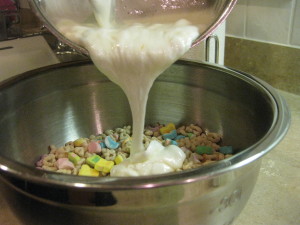 Pour marshmallow mixture over the cereal.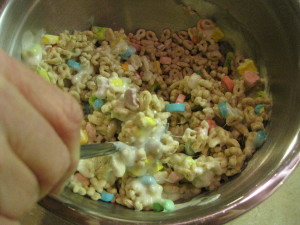 Mix well until all of the marshmallow mixture is evenly coating the cereal. (let the kids do this!)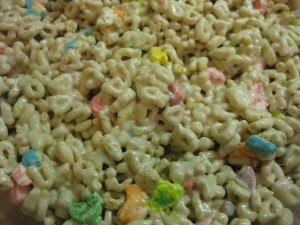 Press mixture into a well-greased 8X8 inch pan.  Butter your fingertips to help keep the cereal from sticking to your hands. (let the kids take care of this step too!)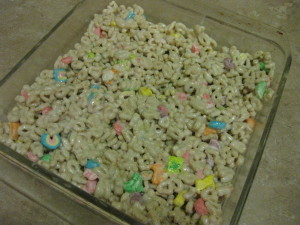 Let pan set until cool—place in refrigerator for a few minutes to help it set.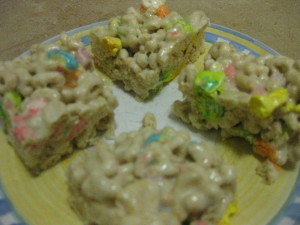 Cut into squares and enjoy!!
…and I couldn't resist taking a walk down memory lane–here's a  Lucky Charms commercial circa 1980!!