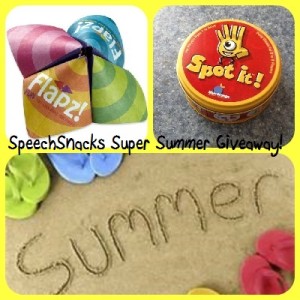 I hope you will soon find yourself relaxing by a pool, beach, or some place refreshing and enjoyable as we begin the summer season!  And while many of us educators find ourselves "decompressing" after the long school year, we also have future therapy plans and ideas brewing in the back of our minds. After all , you can take the SLP (or teacher) out of the school, but you can't take the school out of the SLP!  So here are a couple of fun games from the awesome toy and game company, Blue Orange Games to add to your repertoire in the new school year! (which we all know comes back around all too quickly!)  These games would also make great icebreaker activities for the start of the school year or quick and meaningful activities to fill the last few minutes of a session.  And I've come up with a few ways to change the rules and tailor the games to meet various speech/language goals.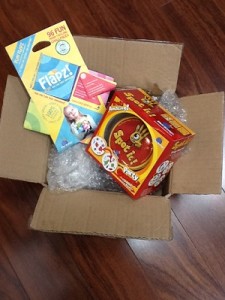 First up—-Spot it! by Blue Orange Games.  (retails for $12.99)
This very generous company sent me a copy of the games to review and will award a second copy of each to one lucky give away winner!!!)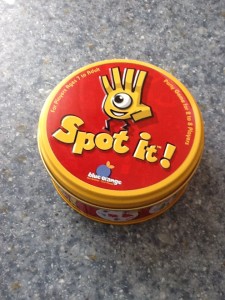 This game features 55 travel-sized circle shaped cards.  The game is appropriate for 2-8 players, age 7 to adult.  The game comes packaged in a nifty, compact metal container. There are five possible ways to play. Games include "The Tower," "The Well," "Hot Potato,"  "The Poisoned Gift and "Triplet."   There is only one matching symbol between ANY 2 CARDS in this game. If you "Spot it", you win! There are only 8 symbols on each card, but 2 matching symbols may be different sizes. This challenge increases as new cards are quickly revealed. The main objective of the game is to be the first player to find the one symbol that matches the other card. This game is great for developing visual-perceptual and matching skills and quick mental processing! Spot it! was a Toy of the Year (TOTY) Nominee,  Parents' Choice Gold Award winner and Dr. Toy 10 Best Games winner.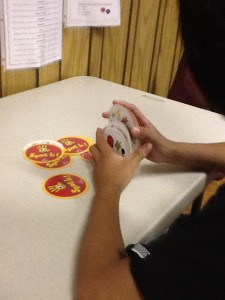 But that's not all…..I've found several ways to address speech/language goals while playing this game.  Place cards in a pile and have each students draw one card.  After responding to the targeted goal, the student gets to keep the card.
1–For articulation goals: Find the picture(s) on your card that contain your speech sound– practice at the word level or use in a sentence.
2–For auditory memory and recall: Therapist names 3,4,5, etc. pictures.  Student must remember and repeat the names of the pictures in correct order (let student see rhe card for visual support or take the card away and have them recall words without visual cues).
3–For reasoning, creative thinking and identifying common attributes:  Find two pictures on your card or between two different cards that have something in common and explain what is similar about them?  My students really impressed me with some of their responses for this task. ie: "A cactus and pencil have something in common–they are both pointy"  and "A person and clock both have hands and a face."   I loved how they were thinking creatively and in both concrete and abstract terms!
4–For describing skills:  Ask student to give three clues about a picture—the other player must guess the correct picture/symbol.
5–For sentence building/story building: Pick 2,3,4 objects and use them to create a coherent, cohesive sentence or story.  It could present quite a challenge to find a common connection or creative way to connect the different pictures so that your story makes sense!!
Can you think of other ways to use this game in your sessions???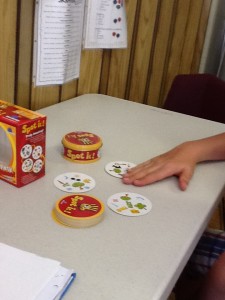 Next up…FLAPZ by Blue Orange Games (this game retails for $8.99)

Flapz is a great travel game (hint, hint–for those of you needing something fun–and non-electronic–to keep the kiddos busy on the long car ride to your summer destinations!) The game contains 96 "challenges" including storytelling, rhyming and memory tasks.  I LOVE that this game is made from eco-friendly, recycled material AND it soooo brings back my childhood memories of making my very own homemade  "cootie catchers!"  Flapz is appropriate for ages 7 and up and for 2 or more players.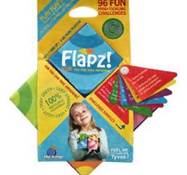 Game rules are simple—Student/player #1 asks player/student #2 to choose a number from one to twelve.  Let's say player #2 chooses 5. Player #1 will fold/unfold the Flapz five times. Then player #2 must choose a color from the four colors. Let's say player #2 chooses blue.   Open the Flapz fold to expose the colored dots.  Then, count out the number they have chosen again.  If the number was 5, for example, count five dots.  For the colored dot you land on, open the flap to reveal the "challenge."    Each colored flap contains 12 challenges.   Read the challenge and have the student execute it.  That's it—simple, fun fast-paced and entertaining!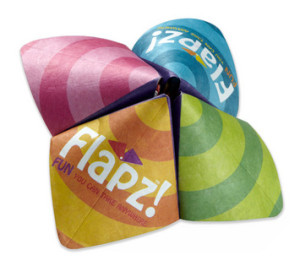 Here's how I would use this game in my speech/language sessions:  There are several challenges for each color.  Students can carry out one challenge if it is detailed and lengthy OR  have  your student carry out more than one challenge.  This would be a great way to address auditory memory/listening and comprehension skills.   Give the appropriate number of challenges depending on student's level of functioning.   Have them repeat the information back and then execute the steps. Additionally, this is a great game for  your articulation and fluency students since many of the tasks require creative, thoughtful and lengthy responses.
Here's an example of a few challenges:
1–Think of a four-syllable word and say it out loud.   (great for vocabulary building and phonological awareness skills)
2–Imitate an animal of your choice until the others guess it. (great for word finding and categorization) 
3–Describe, in detail, a party you would like to be invited to. (great for articulation/fluency and describing skills)
4–Close your eyes, stand on one food and touch your nose. (great for direction following and sequencing)
I hope these fun games have won you over—I have certainly found them to be valuable and versatile activities!    Now you have a chance to own BOTH of them yourself!! You'll be all set with some fun games to use in your summer therapy sessions or as a great icebreaker to start off the school year and beyond!
Enter the Rafflecopter giveaway for your chance to win BOTH!
(The opinions expressed in this review were solely mine.  Blue Orange Games provided me with a copy of each game as well as a copy to give away—no other compensation was provided.)
a Rafflecopter giveaway