I'm posting my first "link up,"  with Laura from All Y'all Need. Every month she posts a new acronym/theme where SLP's  can link-up their thoughts.  For August it's all about Back To School–B.T.S.  For me, Back to School isn't until September, but it's time to start getting my head back into the game so that I'm ready to hit the ground running after Labor Day!  So here's what I have to share…..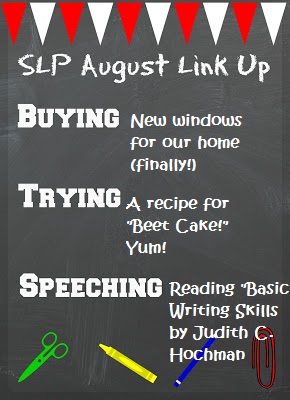 Buying
New windows for our house!  The windows are 25+ years old so I'd say it's due time for some energy saving windows!  And with the fall and winter right around the corner, the timing couldn't be better!  After obsessing and researching for months, I think we finally decided on the right ones to purchase.  The new "Anderson's" will arrive by the end of the month–along with the hefty bill!   I'm really excited because the kitchen window will be a garden-style!  I can't wait to grow herbs and flowers in my sunny window year round!! And I'm hoping my heating/cooling bills will reflect some savings!!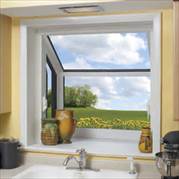 Trying
We are shareholders at a local farm.  Every Saturday morning I pick up my delicious fruits and veggies.  From May until November I am in "foodie farm heaven!!"  I love using all my fresh foods to make salads, soups, pies, muffins.  One of my new favorite veggies is BEETS!  I never ate them as a kid, but that all changed once I started eating farm beets! There is nothing like the taste of a fresh beet salad!  In fact, I just used a bunch of beets to make a Beet Cake–you heard me right.  I know that it might sound a little strange at first, but it was amazing!!!  If you want to sneak something healthy into your kiddos diets, you MUST try this!  And don't tell them you added beets—until after they have raved about how yummy it tastes!!!  Check out the recipe below……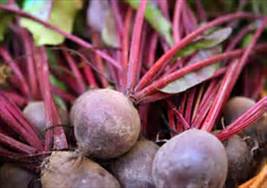 Beet Cake with 5 Minute Brown Butter Icing
Ingredients:
1 1/3 c. flour
1 c. sugar
1 ½ tsp. baking soda
1 tsp. baking powder
1 tsp. ground cinnamon
½ tsp. ground cloves
¼ tsp. ground mace
½ tsp. ground ginger
½ tsp. salt
2/3 c. vegetable oil
3 large eggs
1 ½ c. shredded raw beet
6 tbsp. unsalted butter
1 ¼ c. confectioner's sugar
1 tsp. vanilla extract
Method:
Preheat oven to 350 degrees F. Grease and flour two 9″ round cake pans. Whisk the dry ingredients together in a large bowl. In a separate bowl, whisk together the eggs and oil. Stir this mix into the dry ingredients with a spatula until just combined. Stir in the raw beets – the mix will be quite thick. Divide the batter between the two pans, and press into the pans using the spatula. Bake until a toothpick inserted in the center comes out clean, about 25 minutes.
Meanwhile, in a small saucepan, melt 6 tbsp. of unsalted butter over medium heat, swirling the pan until the butter becomes fragrant and golden brown. Remove from the heat. Whisk in confectioner's sugar and vanilla extract until smooth. Scrape into a bowl and continue to beat until it is spreadable.
When cakes are cool, invert from pans. Ice immediately with brown butter icing. Can be refrigerated until serving.
Speeching
I'm brushing up on some Writing Strategies to use with my middle and high school students this fall.  So many of them need help organizing their thoughts to write good sentences and paragraphs.  Basic Writing Skills by Judith C. Hochman, Ed. D. is a great resource!  Another SLP I work with attended her workshop several years ago and shared her program with me.  The original manual is out of print but the above link includes an updated version of the original.  She breaks down the writing process and includes great strategies and practice pages for building  good sentences and paragraphs. I will definitely be incorporating this into my therapy sessions this fall….and maybe even use the model as a guide to create some new TpT products!