There was a time when I spent my days wearing my "Miss SLP" hat and in the evening trading it in for my "Miss Fitness Trainer" hat!  I was a tough trainer/instructor!  I taught kickboxing, strength training and step aerobics.  My classes were no nonsense, and my class participants worked hard to accomplish their fitness goals while I kept them interested, motivated and coming back for more—–And that's how I would describe the newest app that I just reviewed: Language Trainer, by Smarty Ears.
Language Trainer is to vocabulary development as a fitness trainer is to cardiovascular development!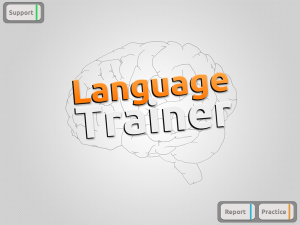 So let's hit the gym, take a look at the kind of workout this app is going to give your students needing support with receptive/expressive language and vocabulary development.
This app is broken down into four sections: picture identification, picture naming, divergent naming and sentence completion.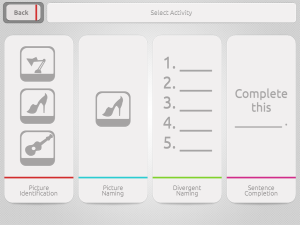 Picture Identification contains 300  images.  You can customize this receptive language task to show 2,3,4, or 5 pictures on the screen at once, therefore increasing the complexity of the task.  You can also set the app to increase the difficulty level of this section if the user successfully responds.  The pictures presented are common everyday objects and a great way for your students with receptive language weaknesses to build their identification skills.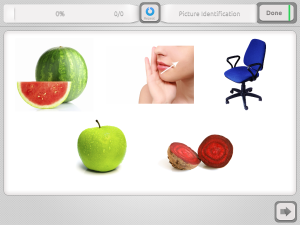 Picture Naming uses the same objects seen in picture identification but asks the student to verbalize the label for the object.  There are options for recording the students response, as well as for tracking correct, incorrect responses and a "cued" button which helps the SLP keep track when a hint or clue was necessary in order to get the desired response.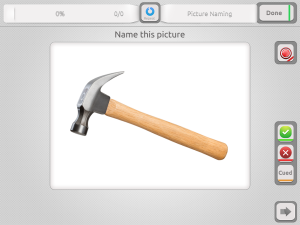 Divergent Naming is my favorite activity from this app.  This expressive task addresses categorization by asking the student to name items in a category. (i.e.: Name 3 things that people use for transportation." "Name 3 things made out of fabric.")   You can change the settings to name from two to six items in a category, allowing for a varying degree of difficulty to meet the skill and complexity level appropriate for the student.  I tried this section out with my middle school students this week and was surprised by just how challenged they were to come up with 5 and 6 responses!  I "put them through the paces" by challenging them to come up with responses within a certain time frame.  It made a great warm up activity to start off our lesson.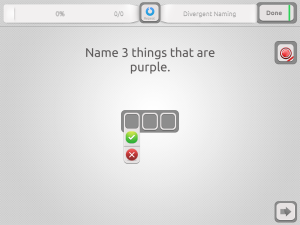 Sentence Completion asks the student to complete the phrase/sentence by filling in the blank provided.  The sentence is auditorally presented so even the non reader can participate in this activity.  Buttons for recording responses is provided as well as capabilities for marking the answers as correct, incorrect or needing cuing. (i.e.: "Mary accidentally cut her hand with a ___________________."    "Grandma knitted a ________________.")  Responses can also be recorded.  I used this activity with my students and challenged them to provide more than one possible answer to complete their sentence. I also used the sentence provided and requested that they turn it into a compound sentence using a coordinating conjunction (and, but so).  It was a great way to get them to expand and elaborate on their thoughts.  The fitness trainer in me was definitely shining through for this task!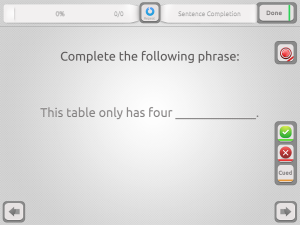 Data Collection: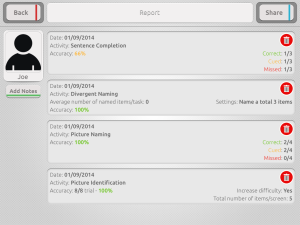 The data collection section tracks the date of the session, activity, number of attempts, and percent accuracy.  If you want to write a few notes about the session, there is a feature for this as well.   Do you have the app The Therapy Report Center???  You can export all your data to this app and keep all of your students data in one place to make reference to later for report writing–and it's free!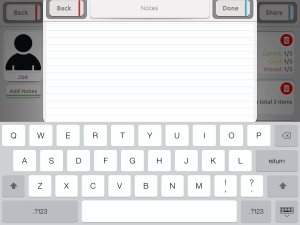 Who will this app benefit??  This app is ideal for students on your caseload who need help with word retrieval, vocabulary building and  categorizing.  In addition, those individuals with aphasia and those learning  English as a second language would benefit from this app.
How will I use this app in therapy? I work primarily with middle and high school students.  While the Picture Naming and Identification tasks are not as useful for my current caseload, the divergent naming and sentence completion activities will make great warm-up or end of session activities and give them a great language "work out!"
I like the straightforwardness of this app.  It was designed with no frills.  There are no extraneous graphics, no fancy background screens.  It's simplicity makes it more appealing for use with my middle and high school students. For this same reason, it would also be appealing for use with the adult aphasic client or adult second language learner.  Additionally, your younger students will be able to focus on the tasks without distractions.
Language Trainer is available for $14.99 in the iTunes store.
Want an opportunity to win your very own copy of Language Trainer??   Well, the generous people at Smarty Ears gave me a copy to give away!   I thought I'd pair up this awesome app with my newest TpT product!  The Healthy Heart and Language Mart!   I created it for your upper elementary, middle and high school crowd.  My inspiration was American Heart Month which is celebrated during the month of February!  You can check out the complete product description by visiting my TpT store here!
You can enter the rafflecopter giveaway below until midnight on Saturday, January 18th!  One lucky winner will be announced on Sunday.
(The opinions in this review are solely mine. I was provided with a copy of this app and no other compensation.)