Okay, let's face it, many of us have a bottle of wine sitting in our kitchen.  You probably opened it a couple days ago and had a glass or two of red.  Well, if you have no other plans this evening, go ahead and (responsibly) polish it off!  And while you're at it, go ask your neighbors if they can do the same.  Maybe you will even consider having  a little impromptu wine tasting party with them—bring some cheese and crackers, a good hummus dip and enjoy!  But before you think that's the end of the festivities, think again. You'll need to collect the cork stoppers from each of the bottles for a fun St. Patty's Day "cork" tivity with your students the next day!  (Yes, I will take credit for the term "cork" tivity if it ever catches on!)  You will be using the corks to create a shamrock stamper for use in your speech sessions.  And feel free to make many sets of shamrock stampers if you happen to have more than three corks at your disposal!!
I've also included a freebie that you can find in my TpT store.  Most of my caseload is made up of older students (10-16 year olds) and I didn't want to leave them out of the fun!  You can let them decorate a piece of construction paper with a shamrock stamper too, but to make things a bit more challenging, I've included a FREE language and comprehension download.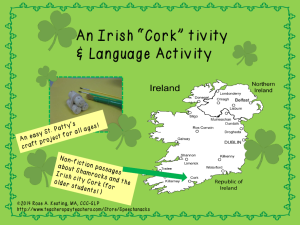 Use the informative non-fiction text to teach them about the city of Cork and another passage about shamrocks.  Yes, Cork is a real city in Ireland and it just seemed like the most fitting  way to tie in with this "cork-tivity."   I included a set of comprehension questions, synonym matching, a map of Ireland and a place to write newly learned facts about the city.   I hope you and your students find these activities fun and informative!
Here is what you will need to make the Shamrock stamper cork-tivity:
3 cork stoppers
a rubber band
washable green paint
a large piece of construction paper
a paper plate or thick paper for the paint
a thin paint brush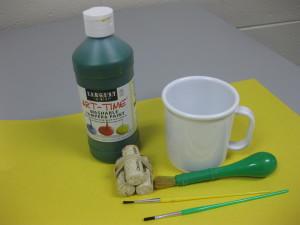 First, wrap the corks securely with a  rubber band.  Thick rubber bands work best.  You've made a shamrock stamper!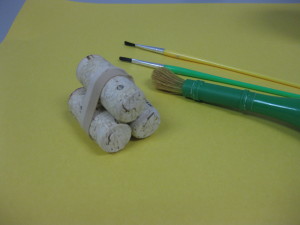 Pour some paint on a paper plate or thick paper.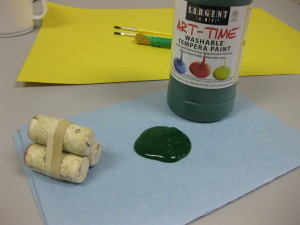 Dip the cork stamper into the paint coating the bottom surface of the corks.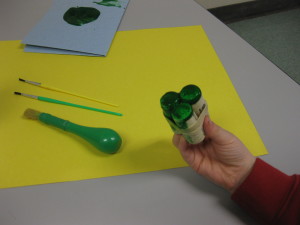 Press the cork stamper onto your construction paper. Be sure to put an even amount of pressure on all three corks as you press down for  best results.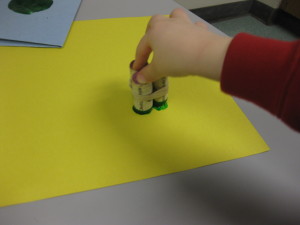 How to use with your speech and language goals:
Have your students press on a shamrock for each time they practice any target sound, word, phrase or sentence.  If you are targeting the /sh/ sound, this will be the ideal activity!!
Use it with language students as well.  Create descriptive sentences about shamrocks and write them out around the edges of your paper–i.e.: Shamrocks are green. Shamrocks have three leaves. Shamrocks grow on the ground.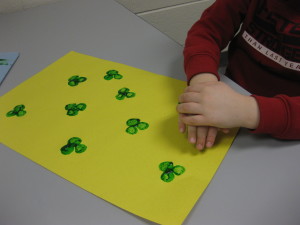 I have a small caseload of pre-school kiddos and they had a great time creating shamrocks!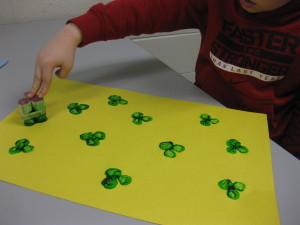 Use a thin paint brush to make small stems on the clovers while the paint is still wet. Once the project dries they can take it home and share with their families.  Makes great refrigerator art too!!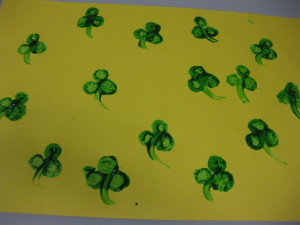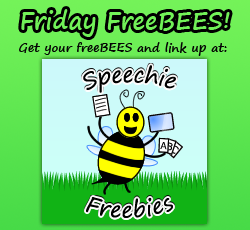 Did you like this freebie??  If you haven't heard,  Speechie Freebies started a link-up that will air every Friday!  You can get free materials from lots of creative SLP's by visiting the freebies link.  And if you are an SLP with a great freebie to share, Friday is your chance to put your ideas in the spotlight.  So be sure to check out what else is buzzing!!!!