As we head back to school, the typical question posed by many is, "How was your summer?" or "What did you do this summer?"  Well, that is quite the loaded question for me! I have my general response prepared, however, here is the response a speech pathologist who is over- analyzing the question gives….

Back in July, which went way too fast, I wrote a post about an idiom that became my reality:  "You've got to crack some eggs if you want to make an omelet!"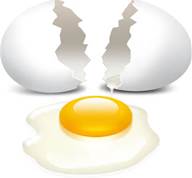 We renovated our kitchen this summer (and I mean gutted it down to the studs!) and lived in drywall dust, dirt and noise for many weeks.   Yes, we certainly cracked a few eggs.  Now our omelet is nearly complete!  We are still waiting to finish a few details like under-cabinet lighting and the backsplash, so I'm going to wait to share photos of the final product.
As the renovation progressed,  I realized just how much the experience related directly to myself, the concepts I teach in my therapy sessions and the students themselves.
First, I have a new found respect for students with attention deficit and other focusing difficulties.
We tried to stay out of the house as much as possible during the day while the contractor worked, however during our down time at home, reading, blogging and creating new TpT materials was impossible!   I found myself struggling to focus, stay on task and get motivated.  I realized just how similar my behaviors were to many of my students.   Sometimes no matter how much they try to focus on the teacher and the lesson being presented, they struggle with the distractions around them.   They may recognize the distractors, they may know what strategies are necessary to help them re-focus and get the work accomplished, but no matter how hard they try, they remain challenged and frustrated by the distractors  This was definitely how I would describe myself this summer, and as a result I have greater insight into the behaviors of the students I teach!
Secondly, renovating a kitchen is the mother-of-all executive functioning tasks!!!   
The six steps of executive function include:  1. Analyze a task  2. Plan how to address the task  3. Organize the steps needed to carry out the task  4. Develop timelines for completing the task  5. Adjust or shift the steps, if needed, to complete the task  6. Complete the task in a timely manner.  Wow!  Need I say more??  If you want to teach executive function in the most hands-on, practical, real-life manner, demolish a kitchen and put it back together again!!   Now there's an idea to share with the woodshop teacher in your local middle and high school!  On a daily basis I found myself analyzing, planning, organizing, developing, adjusting as we worked toward completing the job.  The homeowner is most definitely an  integral part of the renovation process!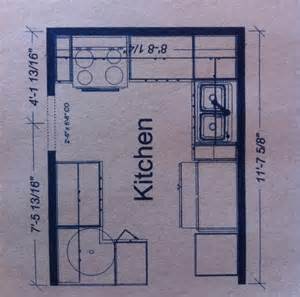 One of my favorite presenters on executive function, Sarah Ward, talks about "starting with the end in mind" then advises, "go back and figure out how to get there."   This is not just great advice for those with executive functioning disorders, but truly for any and all of us!  My kitchen rendition (the drawing below is not my actual kitchen) represents the "end" that Sarah refers to.  Going back and figuring out how to get there is the challenging part,  however with good organization and planning the process flows with a bit more ease.  "Starting with the end in mind" can be applied to so many tasks that our students must carry out at home and in school on a daily basis.  For example, often times  middle and high school students want to know when they will be released from speech.  SHOW them what it will look like.  "When you have corrected the _____ sound."  "When you can use slow and easy speech consistently in conversation."  "When you can use good eye contact and stay on topic during a conversation."  These are some of the ways we provide examples of the final product.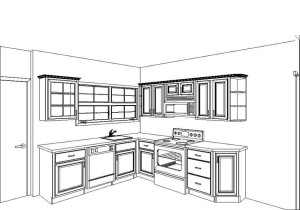 Sarah suggests that we ask the question  "What will it look like when it's done?"  to help our students get organized and form a starting point. Great question Sarah!  When my kitchen is totally complete, I will let you know!  In the mean time, creating a blueprint, design, layout, etc. is necessary in order to envision the final product and help answer the question "What will it look like when it's done."  Where do you want the cabinets and appliances?   Is the space functional and practical?  Where should you place knobs and handles? What color will the cabinets and walls be? What material will you use for a backsplash and floors?  It is necessary to answer all of these questions in order to paint a better picture of the end result.  What a great demonstration of executive functioning!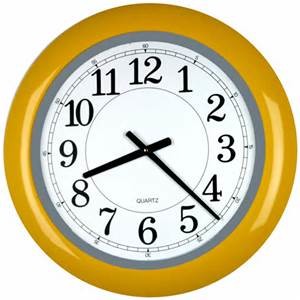 Time management is also a huge chunk of the executive function picture.   How long will the renovation take?  (answer: waaayyy longer than the contractor tells you!)  When should appliances be delivered? What time will the contractor start and end each day?  These are all time management questions that need to be addressed throughout a renovation.
And speaking of time, the summer is such a great time to catch up on a little extra sleep, enjoy your morning coffee and newspaper, stay in your pj's for just a little longer….HA! No such luck here!  The contractor arrived at my house every morning (including a few Saturdays and Sundays!) between 7:30 and 8 a.m.   I certainly wasn't going to be caught dead looking like the walking dead!  I put good time management and executive functioning into practice once again by setting my alarm early every morning. I made sure I was dressed, out of his way and ready for the day before his arrival!  I wistfully wished for just one morning to watch The Today Show and Hoda and Kathy Lee in my pj's with a cinnamon roll and hot cup of joe!  On the upside, at least we won't have to adjust to getting up early for the start of the school year.  We had a lot of practice this summer!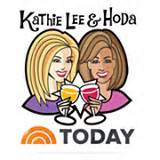 Time management skills are equally important in the lives of the children we teach.  My students use organizational planners to keep track of assignments, important events, tests, etc.  I ask them to figure in the actual amount of time they think each task will take.  This is so helpful in actualizing and prioritizing various tasks in their lives. ( To help students further improve this skill, I created a home planner for them to organize their lives and manage their time outside of the walls of the classroom setting where executive function tasks can be very challenging.)  As another example, when my son starts middle school this fall, time management will become a huge part of his daily functioning.    Student are given three minutes between classes to get to their lockers,  get the books, materials, etc. necessary and get to the next class. He will have to carefully strategize and decide when the best time to visit his locker will be so that he is not running late to his classes.
Thirdly, Michelle Garcia-Winner's Social Thinking Program  would have certainly come in handy during the renovation!
One of the most important traits in life is the ability to be flexible!   "The Incredible Flexible You!"  is not just a social thinking program folks, it became my motto!!   Here are a few examples of being flexible during the remodel.  Contractor: "Oh there's a pipe running through the wall that was supposed to be opened up."  or "Did you know the wall that you want to remove is supporting the beam that holds up your roof?"   Yes, these were real life scenarios faced during the renovation.  We found ourselves developing alternate solutions, choosing the best option, and being realistic. What a great lesson in flexibility and problem solving to share with my older kiddos this year!
Need another example that demonstrates flexibility??  Here's a gem that you can ask your students to figure out: How does one manage to eat meals when one does not have a kitchen to cook in?  Go out to eat every night?  Invest in a case of cold cereal? Starve? Nope, not in our house, after all this is "SpeechSnacks" we're talking about!  We set up a make shift kitchen in the basement, plugged in a microwave to heat food, used the spare fridge to store food, used the grill to cook meats and veggies, and created a dining room table out of several cardboard boxes.   The lesson here–learn to have a plan B, get creative, find other ways to get the job done.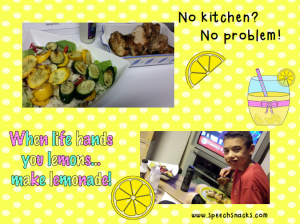 Finally,  are you familiar with The Incredible 5-Point Scale?  Let's just say I discovered that it's not just an effective tool for students learning to gauge the different levels of their emotional responses! Frustration was at an all-time high during the remodel.  ( I will refrain from going into all the reasons why, however opening the walls of our kitchen was like opening Pandora's box)   As the job progressed, I realized that the Incredible 5-Point Scale would have come in handy for sure!  My emotions certainly ran the gamut during the remodel—frustration, anger, contentment, confusion.  I admit that I was a "5″ on that scale on more than one occasion. Perhaps I should have just hung this chart up on one of the unfinished kitchen walls to get me through each day!!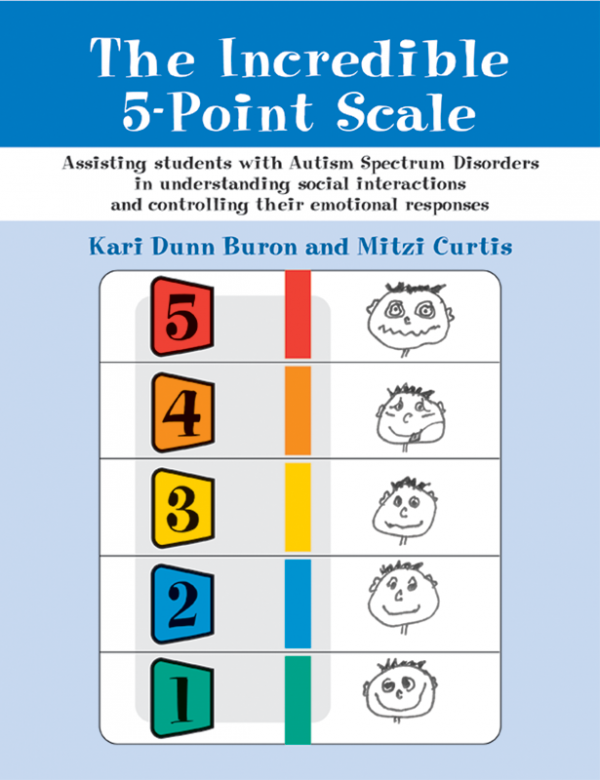 Looking back at the kitchen remodel,  I can draw so many parallels between my experience, techniques and strategies applied in my therapy sessions and the challenges faced by the students I work with.  I was overwhelmed at times, just as our students can be when presented with encountering classroom, social and organizational challenges.  I occasionally experienced difficulties carrying out tasks, staying organized, communicating feelings, making decisions, solving problems, just as our students experience on a daily basis.   As a result of this project, I will have greater empathy for those students who struggle in these areas.   I know I will use this experience as a way to connect with the middle and high school students on my caseload.   My kitchen has been my "proving ground" this summer.  A place where we  "cracked a few eggs" and learned many a lesson!  I'm glad to be changing venues soon as the school year quickly approaches.  My therapy room will be a welcomed sight for sore eyes.   Or maybe I should suggest renovating that space as well??!   Maybe not!