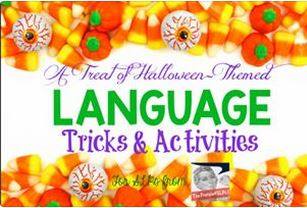 The Frenzied SLPs have some fantastically frightful Halloween-themed language ideas for you—just in time for Halloween!  Be sure to check out the great ideas in this linky and you'll have all your lessons planned for Halloween Week–and then some! I'm sharing a few of my most popular activities.  They've already been kid-approved since I've been using most of them for many years.  And these activities can certainly be used with the big kids too!!  While many of our older students may look like they are on the verge of adulthood,  keep in mind that they are still just kids in "big people" bodies.

Dollar Store Ideas:
The Bloody Hand Game!
              One bag of skeleton plastic rings= $1.00                   
One severed, bloody plastic hand= $1.00.   
My middle-school kiddos love this fun and gory-looking activity–especially the boys!!  You can use this activity for keeping track of correct responses for any goal you are targeting—vocabulary building,  comprehension questions, etc.  Each student in the group claims rights to one finger.  When a correct response is given, the player gets to slip a ring onto the finger.   Whoever has the most rings piled onto their finger first is the winner!   (I cut  the rings at the back to make them easier to slip onto the fingers if necessary).

Foam Pumpkin Head Direction Following
             One foam pumpkin=$1.00                
One bag of scary face pieces= $1.00
I love foam carving pumpkins—no slimy seeds to deal with!     The scary face pieces easily press right into the foam pumpkin and stay put.  I would use them to address direction following, spatial concepts, If/then statements, as positive reinforcement for any targeted goal.  For example:  "Put the left ear next to the stem and the eyes below the stem."   OR "If bats sleep in caves, then put the nose on the pumpkin, if they don't, add the left ear."   You can make the task as easy or complex as needed to meet the ability levels of your students.

Pick Up Your Eyeball! 
One bag of plastic bloody eyeballs=$1.00
Gotta love these bloodshot eyeballs!  Twelve plastic pieces came in a pack.  They are about the size of ping pong balls and bounce pretty well so I know my  kiddos are going to try and bounce them around the room, but I have different plans.   Number your eyeballs with a permanent marker.  For my purposes, I used numbers 1-4 on eight of the balls, but on the back of three them I put an "x" (you could also use a scary Halloween sticker).  Students get to reach into a container and pick out an eyeball after responding to a questions for the language area you are targeting.  Keep a tally of the points earned, however if they pick the X or scary sticker, they must put all eyeballs back in the box!!    Lots of suspenseful ups and downs in this eye-popping game idea!!

SpeechSnacks
FOOD-TIVITIES!!!:
If food is permitted in your school/therapy setting here are some activities that you MUST check out!
Spooky, Toothy Apple Treats
The project was inspired by a popular food activity found on Pinterest, however I have modified it to make it meaningful for our speech and language students.  It will be a big hit regardless of the age, grade, ability level of your students and the materials target both your speech and language needs.  You can find my spooky, toothy creation in my TpT store.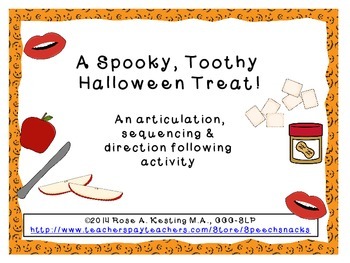 This project serves several purposes:
It is a fun and quick Halloween themed treat that is relatively healthy and  simple to make.
It addresses various language areas.
It teaches your students an underlying lesson regarding the parts of the mouth that help us form speech sounds!
What you will find in this activity:
Includes a simplified informational page about the articulators, an open-ended questions regarding alternate ways to communicate and a page to list words that are made using various parts of the speech mechanism.  This activity is a great way to build greater awareness in students working on articulation and speech sound awareness.
A recipe for A Spooky Toothy Treat, a fill- in- the- blank page for recalling and sequencing the steps in the activity, and full- color step by step  photos to print out and use for a sequencing task in place of, or along with, the actual food activity. Each photo contains a blank box to write in the step in the process and blank sentence strips to write in the steps describing each picture.
Mummy Muffins 
1—Split English muffin apart and lay flat.
2–Spread on a thin layer of tomato sauce.
3–Cut a slice of cheese into thin strips.
4–Randomly criss-cross cheese strips onto muffin.
5–Arrange black olive slices and red pepper pieces onto muffin to form the mummy's eyes and mouth.
6– This snack can be eaten as is, or placed into a microwave for 30 seconds to melt the cheese and enjoy warm!
Use this activity to target sequencing and direction following.
Address categorization by naming types of cheese, foods that are round, black foods, salty foods, foods made from tomatoes, and red foods.
Ask students to think of crazy combinations for pizza toppings or make up agrotesque Halloween pizza with all sorts of ghoulish toppings!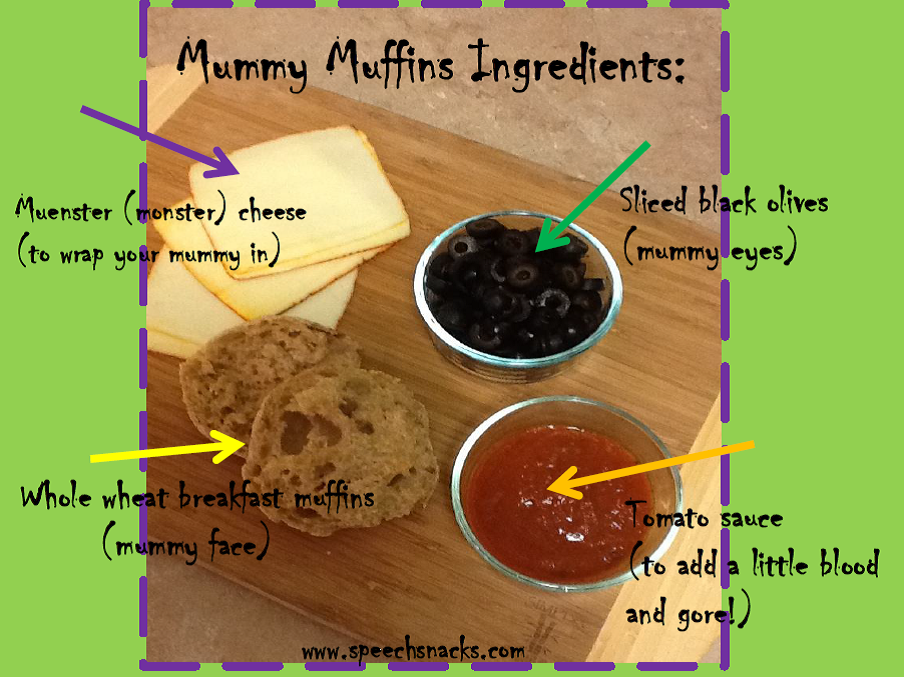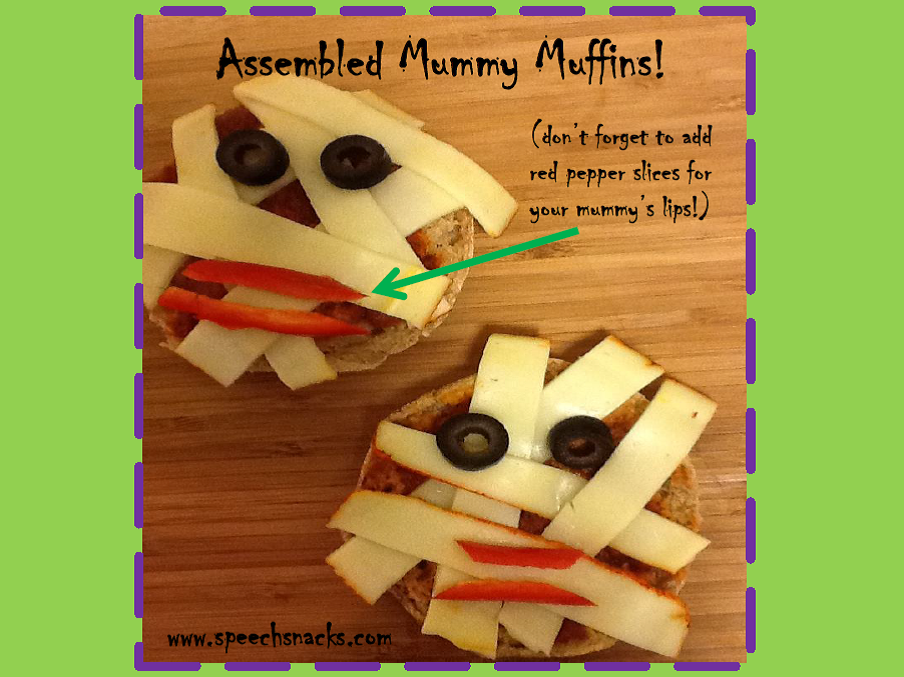 My Mummy Muffins food-tivitiy  inspired me to create this TpT product —lots of great Halloween themed vocabulary for your older students!!!!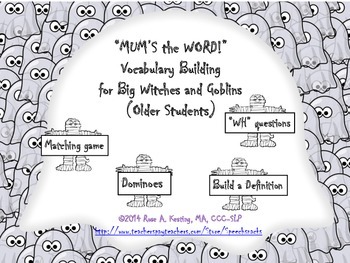 Witches Brew!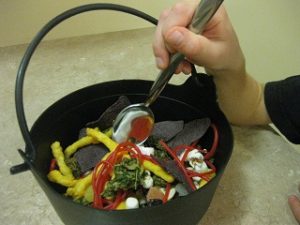 If you are permitted to use food in your schools, here's a delicious way to incorporate a treat into your sessions this week.  Have your students add the ingredients to a plastic cauldron.  Ask them to add them in an ordered sequence and see how many they can remember!  Then download my FREEBIE that goes with this food-tivity!!!!  Each card has an ingredient used in this recipe.   Cut out and laminate the cards for durability. Distribute cards evenly among all student in the group.  Ask student to read the card, using proper grammar tense for HAVE and HAS.  For non-readers, model the correct tense and have them use the pictures as cues.  This activity also reinforces good "WH" question formation and LISTENING SKILLS.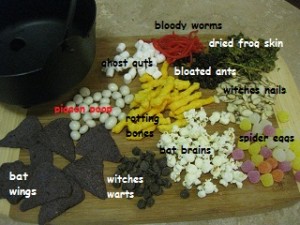 For this recipe I used:
blue corn chips=bat's wings
red licorice=bloody worms
cheese curls=rotten bones
popcorn=bat brains
gum drops=spider's eggs
chocolate chips=witches warts
mini marshmallows=ghost's guts
yogurt covered raisins=pigeon poop
raisins=bloated ants
sliced almonds=witches nails
kale chips=dried frog skin
Get creative with your choice of ingredients….I've mixed up some salty and sweet treats for our brew, but you can certainly create other "gross" ingredients from the items in your pantry or by visiting the grocery store snack aisle.  It's a great opportunity for your kids to "think outside the box" !!!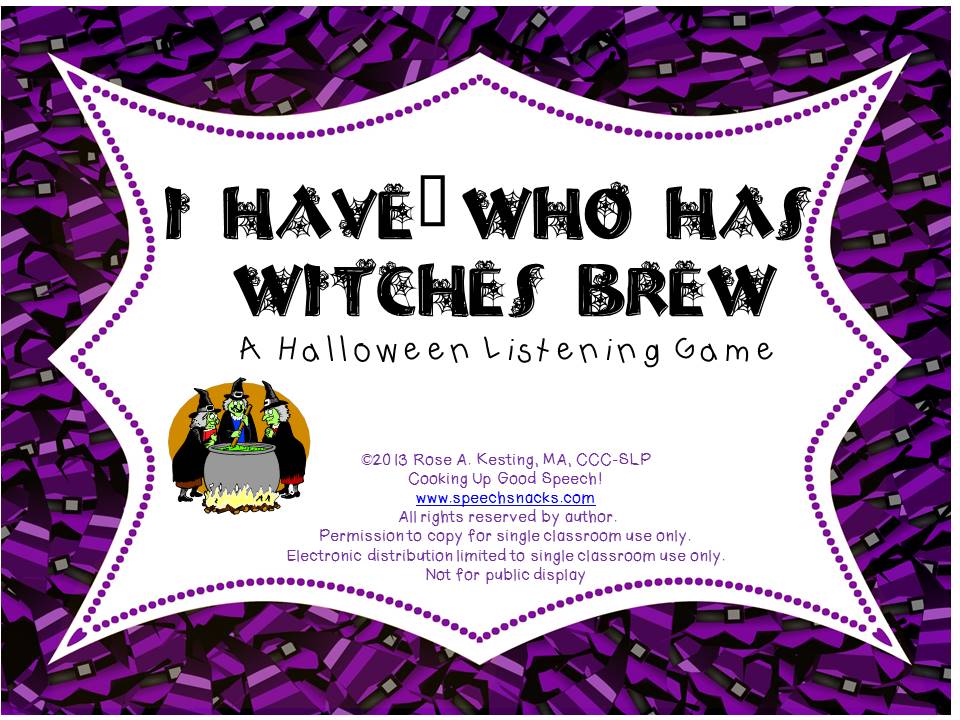 For those who use an integrated model (working in the classroom or with a larger speech group):
Do you partake in a push-in therapy model in your school?   In addition to pull-out therapy, I provide this service on a weekly  basis as part of  my student's IEP's.   Several of my speech/language students are in each of the three classes that I spend time in.   I love the functionality of the push-in model.  Seeing students in the classroom setting and observing how they respond and interact in a class full of peers provides one more opportunity to address their IEP goals in a meaningful and practical way.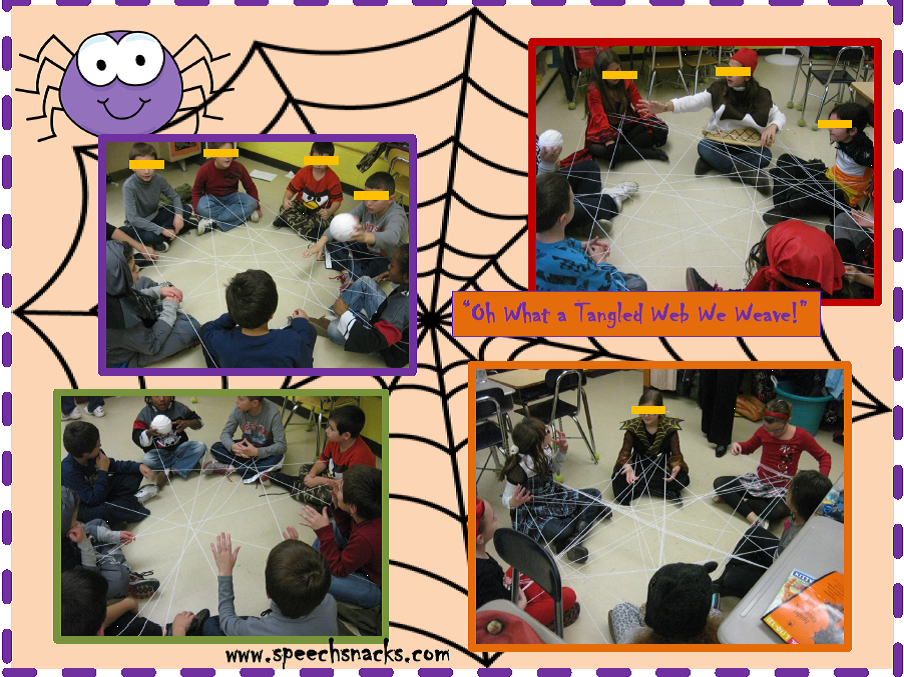 If you work in a classroom with a teacher who is open to suggestions and  likes when you share creative ideas, then I have an activity for you!  You will be addressing language goals for categorizing and naming tasks with your language students while engaging the entire class in a fun and functional activity.  The only thing they will be focusing on is all the fun they are having weaving their spider web, while you get to observe and make note of their language skills.
To weave your web of words, you will need a group of students sitting in a circle and one ball of white yarn.   If you have more than 15-20  students in the class, divide them into two equal groups and each group can create their own web.
The first student loosely wraps the yarn once around their waist so that the yarn stays in place.
Pick a category or topic that you would like students to generate answers for.  The student with the ball of yarn must give a response to the category.  Then they need to call out another student's name and toss the ball of yarn to them.  That student wraps the yarn once around their back, gives an answer and then tosses it to someone else.  Continue until you wish to change topics/categories.  Your yarn should start to take on the resemblance of a "spider web."
You can also play this activity as a memory game.  For example, play "I went trick or treating…..  and I got—-name a candy"   The next player must remember all the previous responses and then add one of their own before tossing the yarn ball to the next person.
Need some Halloween themed ideas for playing this game as a categorization task?  Here are just a few.  Name…..
things that are orange
things that are black
synonyms for "scary"
Halloween costumes
things you do at a Halloween party
fall activities
things you eat made from apples
Wondering how to get  out of the tangled web after they have had fun creating it?  They can lift the section of web that formed around them over their head or an adult can cut them free by snipping their section with a pair of scissors. (Please use caution.  It would be a good idea for them remain seated while doing this part!)
Do you use a push-in model in your speech/language therapy program?    This might be a fun way to work on some language skills while equally including everyone!