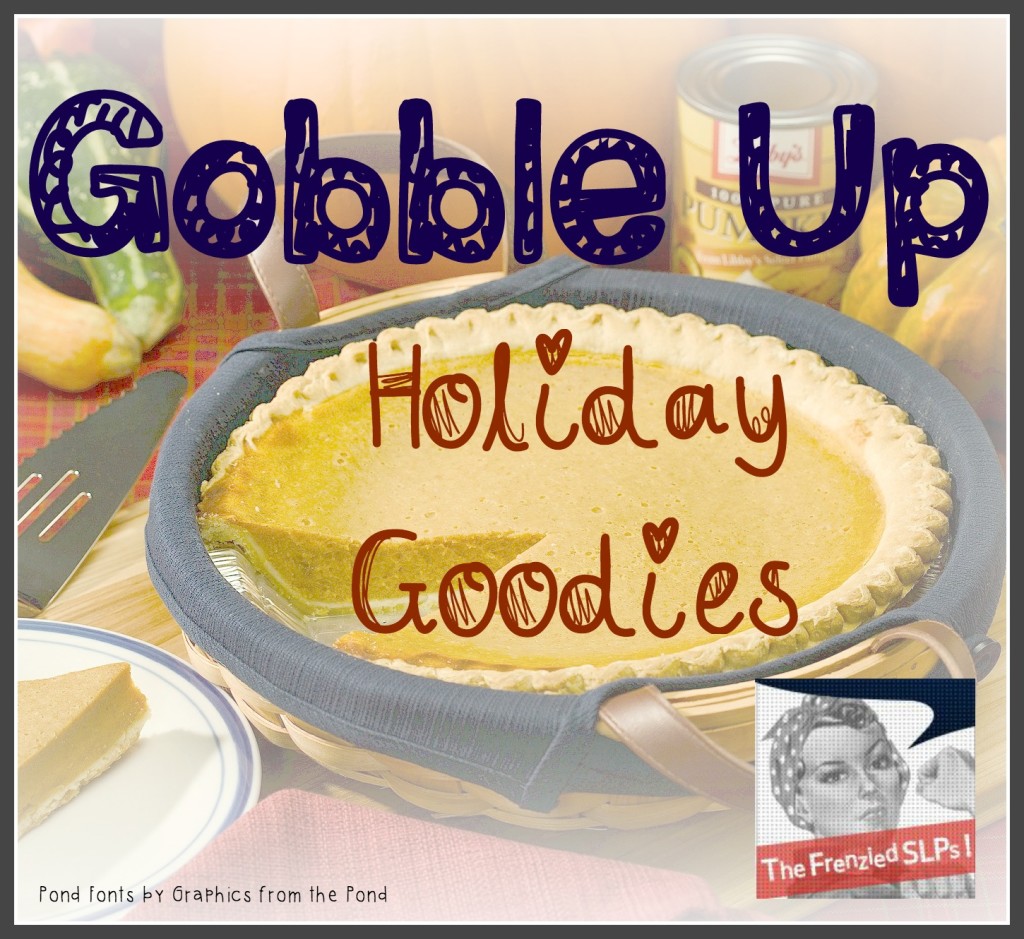 The Frenzied SLPs have a Thanksgiving themed linky with some holiday goodies for you. Thanksgiving is only a few days away, which means a short school week for many of us!   I'm sharing some holiday-relevant ways to fill your instructional time while  keeping your students excited about learning.  And keep reading to the end of the post for a creative way to use up all that delicious left over turkey!
#1:   A Cornucopia of Tier Two Vocabulary— from my TpT store.   I created this with the middle to high school set in mind. It includes some key Tier-2 vocabulary, strategy and game dice and a 3-D "Cornucopia Cup," (as I call it), for collecting all the game pieces earned in this activity.  Themes include Black Friday, The First Thanksgiving, The Mayflower….and more!  It's ON SALE this week only so hurry and gobble up the savings!!!!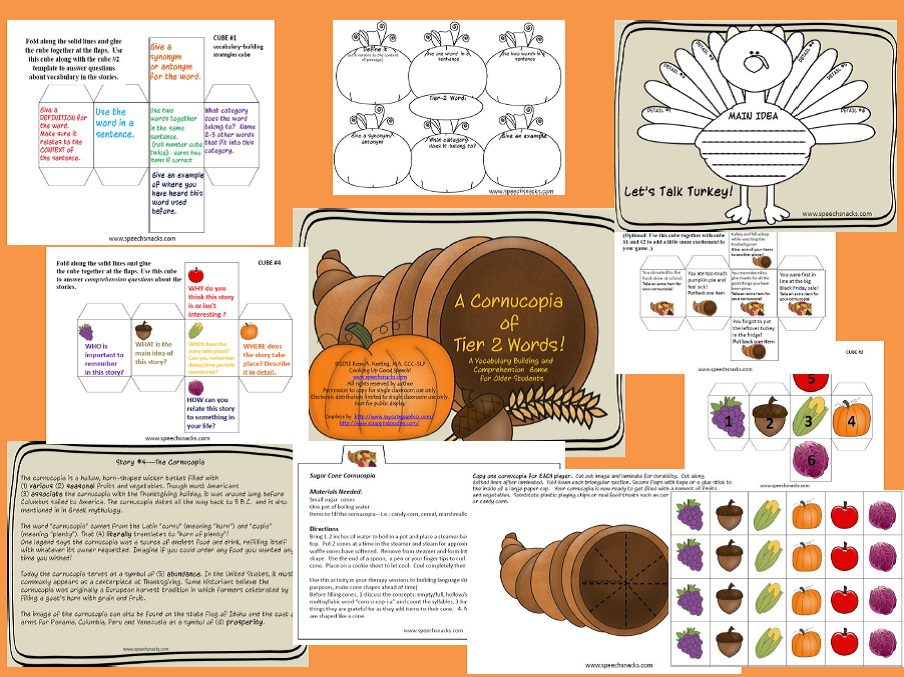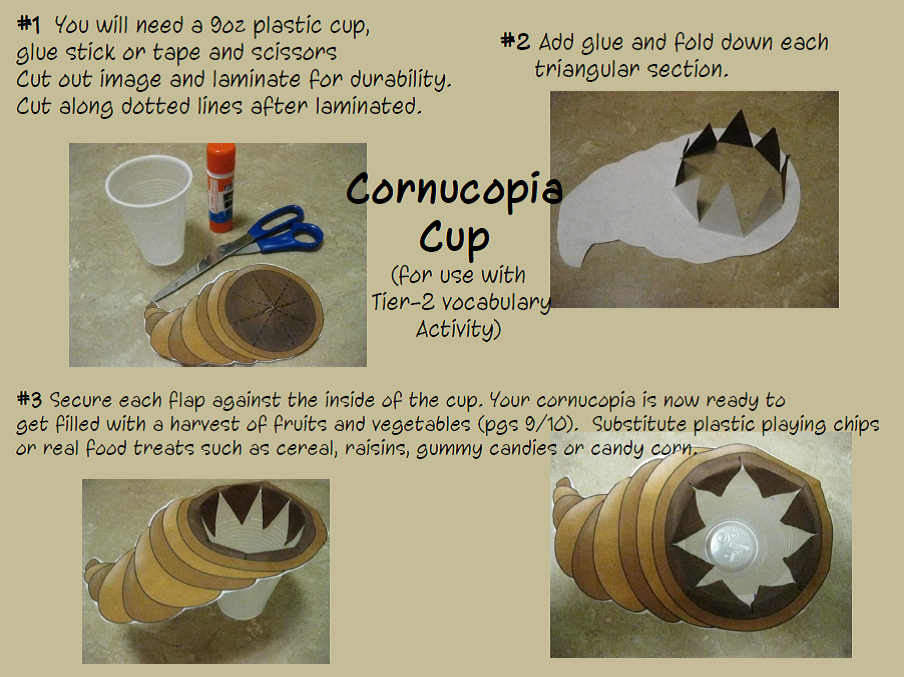 #2   Use this food-tivity  in place of the paper cornucopia (above) . Your students will LOVE getting edible reinforcer to incorporate into my  Thanksgiving vocabulary game —or use this creation as a positive reinforcer with any activity of your choosing for a fun and festive diversion from the usual game tokens!!  (Make the cornucopias in advance at home. Use candy corn, candy pumpkins, marshmallows, gum drops or healthy fruit snacks, yogurt drops, etc as reinforcement tokens to fill the cone.)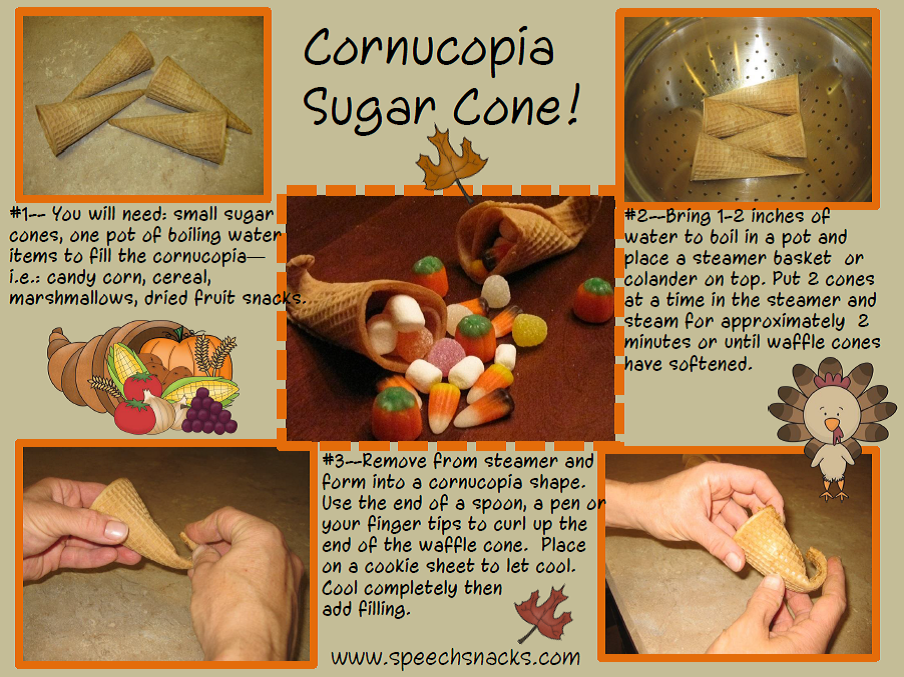 #3.  I'm paying homage to  Tom Turkey with  a food-tivity  that is fun to make, healthy to eat, will teach sequencing and direction following and is sure to be the juiciest turkey you have ever eaten!!   NOTE:  NO TURKEYS WERE HARMED IN THE MAKING OF THIS FOOD-TIVITY!!
I like to accompany this activity with the story "Twas the Night Before Thanksgiving"  by Dav Pilkey.  It's an adorable story with a humorous twist and it ties in perfectly with the fowl-free sequencing food-tivity .  The story is filled with many great tier-2 vocabulary words to address with your younger students.
Each step contains ways to build language through DESCRIBING, COMPARING, CATEGORIZING, SEQUENCING, DEFINING, and DIRECTION FOLLOWING.  Incorporate the pictures into your language lesson.  If permitted, make this task truly MULTI SENSORY by using the actual ingredients in the classroom.  If this is not possible, send home the printouts so parent can create the project at home with their child.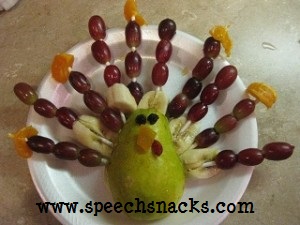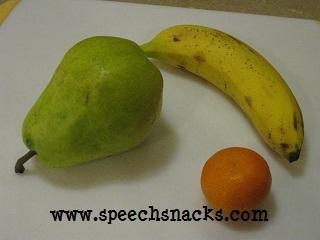 #4 .   Looking for a way to use those leftovers?  Having company after the big turkey day?  Check this out!  Turn your turkey leftovers into a cornucopia wrap.  Plus, your picky eaters at home will love filling their own healthy snack tortilla!  (Yup, I will take full credit for this brilliant creation!)
Combine left over turkey with shredded carrots, chopped celery, red onion, dried cranberries, and sliced almonds.
Add a tablespoon of mayo, a squeeze of fresh lemon and salt/ pepper.
Roll a medium sized tortilla into a cone shape and insert (weave ) a toothpick into the pointed end of the tortilla.
Spoon ingredients into cone as you hold it upright., then lay it down and finish spooning in the rest of the filling.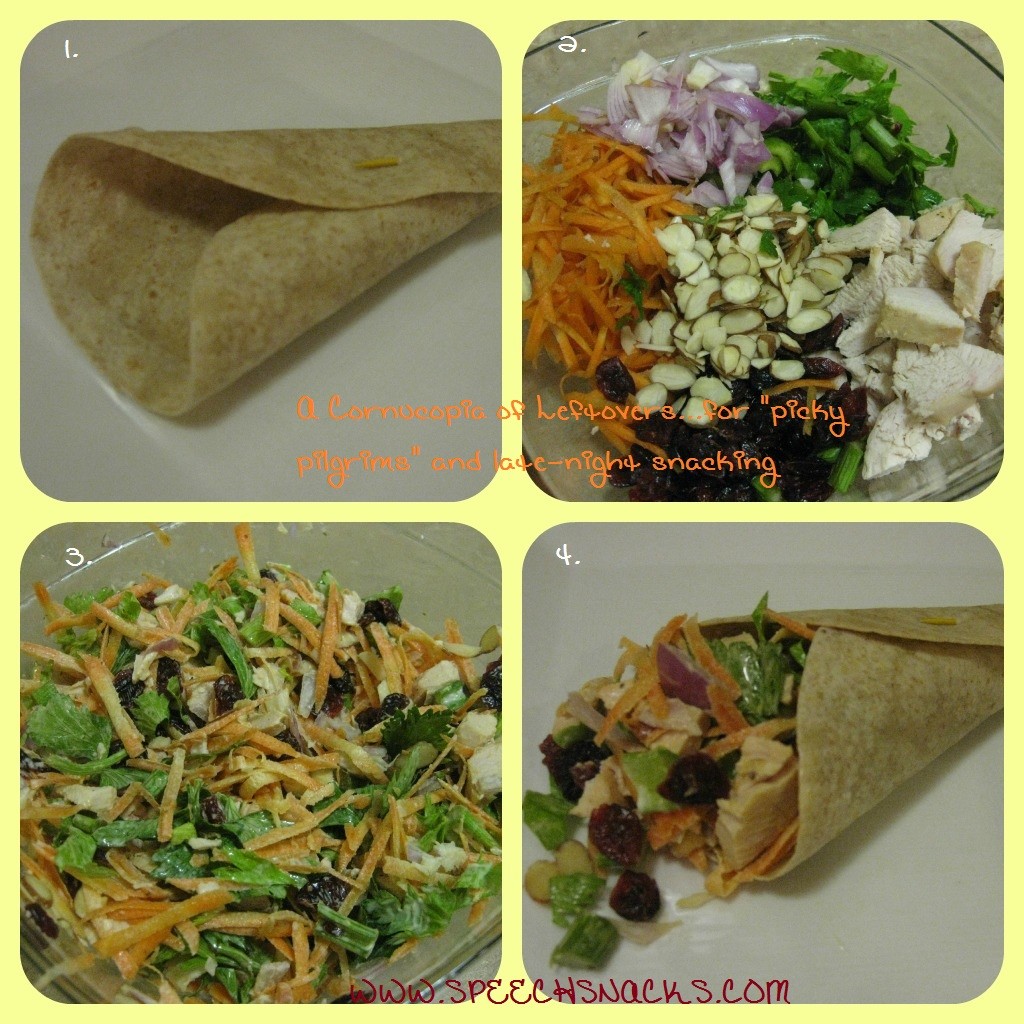 #5.  I love posting a Picture of the Week/Joke of the Week in my therapy room.  This is what my students will get to laugh about/think about this week. Perfect for addressing inferencing and critical thinking.   I  hope the vegetarians among us aren't too offended!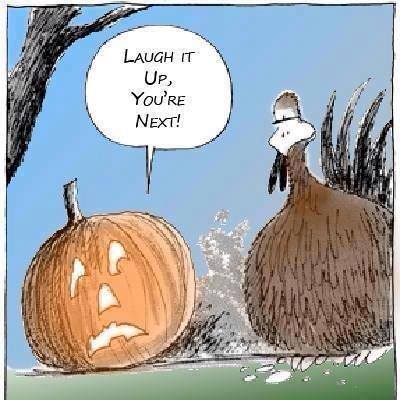 Are you already thinking ahead about the next BIG HOLIDAY???     You can find lots of activities for your older students all in one place—my store!!  Click HERE and HERE for my FREE Holiday activities and HERE  and HERE for MORE Products that target language goals with your older students.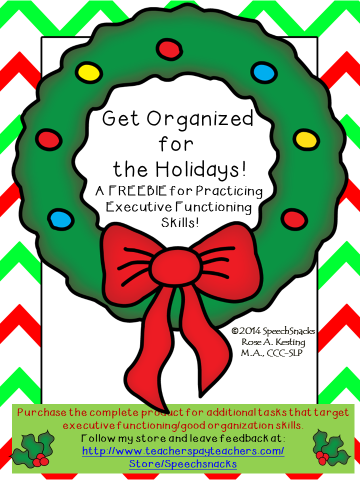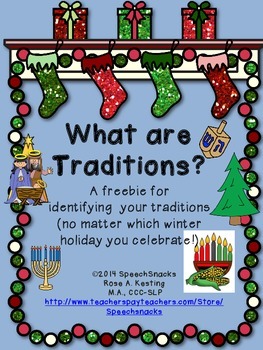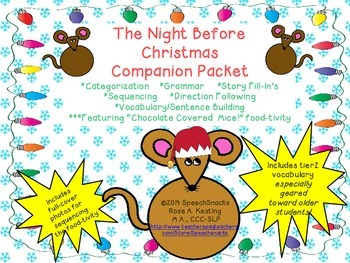 You can link up or check out more speech goodies from some tremendously talented SLPs below!  Wishing you a Happy Thanksgiving filled with the comforts of family, friends, good food and plenty to be thankful for!