The Frenzied SLPs have a special treat for you this month— a scavenger hunt style blog hop where we will share our thankful and grateful stories while inviting you to participate in our giveaway. Three lucky winners will be chosen to each receive a $10 Teachers Pay Teachers gift card and a $10 Starbucks gift card.  I think that is something to definitely feel thankful and grateful for!!
I am thankful and grateful for so many things, however when I  reflected on what I am most thankful for,  I realized  that the simple things in life were at the top of my list!  I decided to create an acrostic poem to sum up my reasons to be thankful and grateful.  Not only was it a fun and meaningful exercise for me, but I think it will make a great lesson for my students.  I plan on sharing my acrostic with them as inspiration for their own ideas. I work with middle and high school students, but this could be used with younger  children as well.
Want to make your own "I am thankful"acrostic poem with your students?   Click on the link for the brainstorming page and template that I created.  It's my  small gesture of thanks to you this holiday season.  I hope you find it useful in helping your students become aware of all the things—especially the simple things in life—that there are to be thankful and grateful for!
I am also so thankful to those of you who visit my blog and take the time to read my  about my thoughts and ideas.  Special thanks to The Frenzied SLPs (and especially  those Frenzied SLPS who put together the details of this month's blog hop!) I love being a part of this fantastic collection of talented SLPs.   Please scroll to the bottom of the post and write down my letter.   I am the second to last on your blog hop.  Once you have figured out  the completed phrase, enter the giveaway at the end of this post!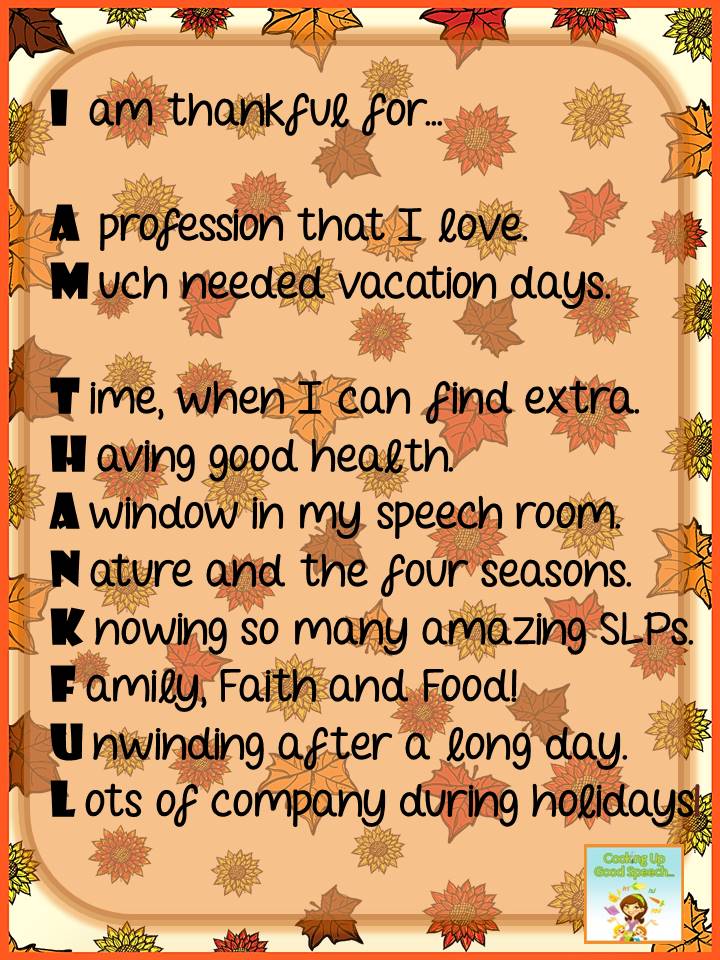 Here is how you can participate in the blog hop:
 1. Read each Thankful and Grateful post from The Frenzied SLPs!
2. Collect the character at the bottom of each post. Don't forget to write down the characters in order to reveal the secret phrase.
3. Enter the Rafflecopter at the end of any post by entering the phrase.
4. Visit The Frenzied SLPs Facebook Page for an extra entry.
5. Three winners will be chosen after the Rafflecopter closes on 11/13/2015.