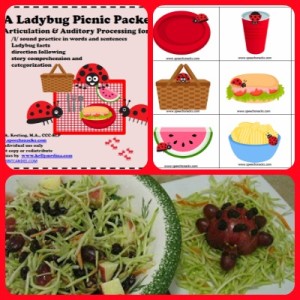 This week, with the summer season drawing closer, you're invited to join me for a picnic…a ladybug picnic that is!  Based on a video I created  last year, I've taken my kid-friendly ladybug snack to a whole new level!  In this video, I sequenced the steps in making a healthy "ladybug salad."  This inspired me to create a new product for my TpT store, including a FREE download for the articulation portion of this item!  This product includes a little something for everyone:  articulation, auditory processing for direction following, story comprehension, and memory skills and categorization—all with a picnic/Memorial Day/ladybug theme!   And THREE lucky ladybugs are going to get a free copy of this packet—see the Rafflecopter giveaway at the end of the post!!
Here is the video from last year—-it's great for working on sequencing, spatial concepts and math vocabulary for words like half, whole, part, equal and divide!  (You can find the post from last year including step by step colored photos here)

This song was originally a Sesame Street tune, but I found a version that was a little "jazzier!"  I  love the twist that this band puts on this preschool tune!  Check it out here!

I've included the lyrics to this cute little tune.  Play the song and sing along with your younger kiddos!  I love to incorporate music into my therapy sessions–and my students love it too!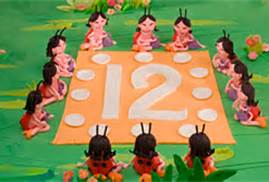 One two three,
Four five six,
Seven eight nine,
Ten eleven twelve,
Ladybugs
Came to the ladybugs' picnic.
One two three,
Four five six,
Seven eight nine,
Ten eleven twelve,
And they all played games
At the ladybugs' picnic.
They had twelve sacks so they ran sack races
And they fell on their backs and they fell on their faces
The ladybugs 12
At the ladybugs' picnic
They played jump rope but the rope it broke
So they just sat around telling knock-knock jokes
The ladybugs 12
At the ladybugs' picnic
One two three,
Four five six,
Seven eight nine ,
Ten eleven twelve,
And they chatted away,
At the ladybugs' picnic!
They talked about the high price of furniture and rugs
And fire insurance for ladybugs
The ladybugs 12
At the ladybugs' picnic!
**************************************************
In this very comprehensive packet, I've combined articulation activities with sentence facts about ladybugs, story comprehension passages, auditory processing for memory and direction following and questions related to Memorial Day.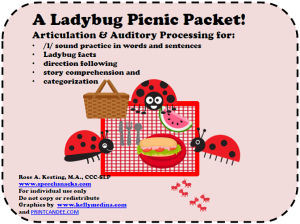 Initial, medial and final position /l/ words as well as blank cards
/l/ sentences that are also "ladybug "facts and can be used to address articulation as well as an auditory memory tasks.
Picnic game pieces including 3 pages of picnic items, 1 page of "ant" cards, 3 pages of Picnic blanket mats.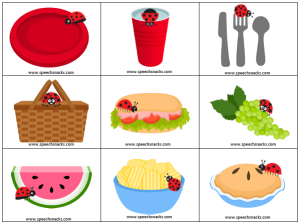 OBJECT:  (use this game along with any of the card sets in this download—after responding to a question in the target area)
Each player gets a picnic blanket.  Draw a card from the picnic pictures. Collect all 9 picnic items, but watch out for the ant cards.  Pick an ant and all your food cards must go back in the pile.  The first player to collect all 9 cards is the winner.
12 detail-filled passages about ladybugs.  Each card includes story comprehension questions related to the passage.  Information used for this activity was taken from www.nationalgeographic.com and www.enchantedlearning.com
18 cards containing a combination of direction following, naming  and open-ended "Wh" question cards focused on improving expressive language skills.
12 "I'm going on a picnic and I'm bringing…"cards.  Place cards in a pile.  Students take turns picking a card and naming something that fits into that category.  As play continues, each player must add anther item that fits into that category, but also remember the answer from the previous player.  This activity addresses both categorization skills and auditory memory/recall.
And  a "SpeechSnacks" Collectible recipe card for Ladybug Salad
Ready to win a copy of this packet?   Hope my ladybugs bring you good luck!!